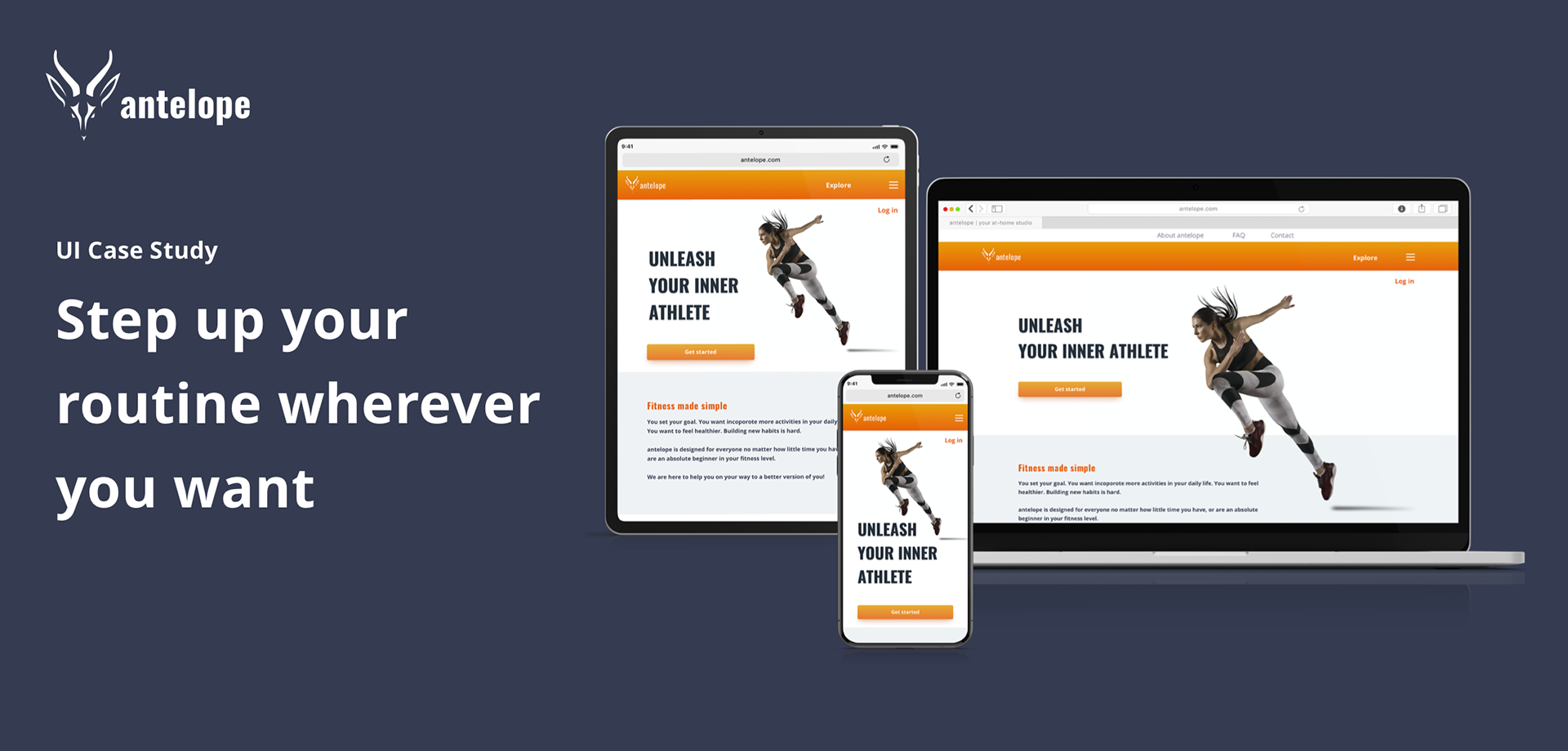 PRODUCT: 
A responsive Web App

//

 
MY ROLE:
UI Designer, Branding

//

 
DURATION:
5 Month
as a side project 

//

 
TOOLS:
Pen & Paper, Sketch, Adobe XD, Photoshop, After Effects 

//

 
DATE:
2020
antelope is a responsive
web app
. Its main objective is to encourage users who are new to fitness to build up an activity routine independently from a location and help them to stay motivated.  
I created this personal project through my
UI Specialization Course for UX Designers
 with CareerFoundry. The project focused primarily on composition, visual design principles and UI. 
Finding routines which fit into a
busy schedule
is not easy. Going to a gym and waiting for available fitness equipment takes
too much time
and is annoying.
Especially people new to fitness
struggle to find
the right exercises
for their fitness level and feel overwhelmed to stick to workout plans. Exercising is not only a perfect activity to stay healthy physically. It should be
fun and enjoyable
to support users mentally as well. Once started, many people find it
hard to stay motivated
and try to skip their workouts because of these obstacles.
Developing a responsive web app for
various bodyweight exercises at
any level
and which can be done 
wherever and whenever
users like: at home, in the park, in the lunch break. 
Quick
daily challenges
are a good way to integrate sports in a busy working or family life. Taking up the challenges with friends is fun and helps to stay motivated. 
Adding sessions to a personal calendar can help to
keep schedule
. 
The entire design process from user journey mapping, creating wireframes from low to high fidelity, making prototypes, creating a style guide and wrapping up the final design with handoff for development. 
Since this project is more focused on the User Interface, Careerfoundry provided students with data of the research phase: key objectives, persona, style criteria and feature requirements served as base points.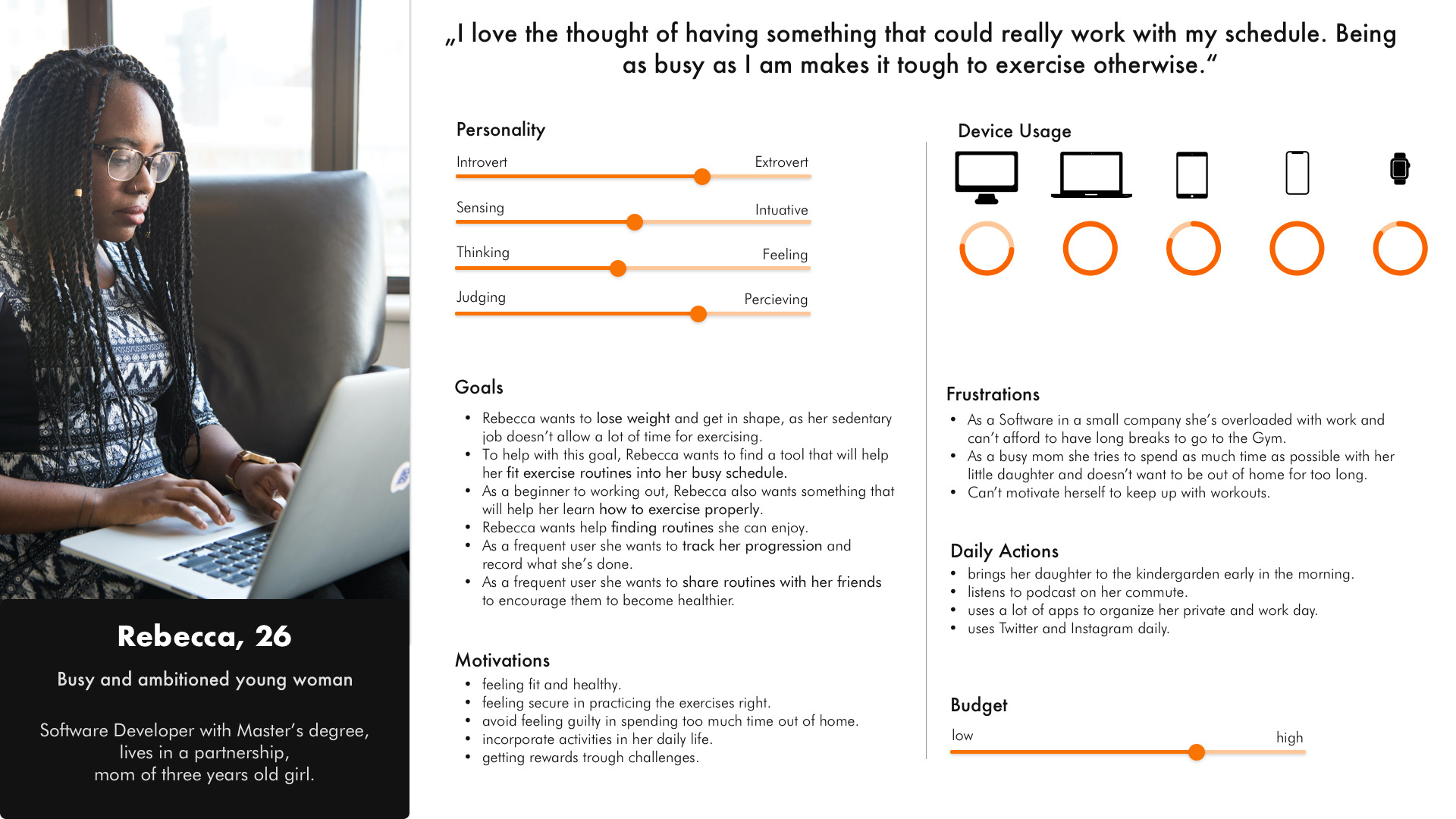 Competitors & Finding Inspiration
To better understand
key functionalities
and the structure of other popular fitness apps, I did some market research. Almost every product I found was only downloadable as a native app: e.g.
freeletics, 7 Minutes, 30 days, burn
. Regarding web apps, I could only find
sworkit
and
keep
. After trying out some of these, I got the impression that they are clumsy and not well structured. 
With this in mind, the given research facts, my own analysis and my users' needs, I started to frame my own product. 
I created user flows to show the flow attached with each task.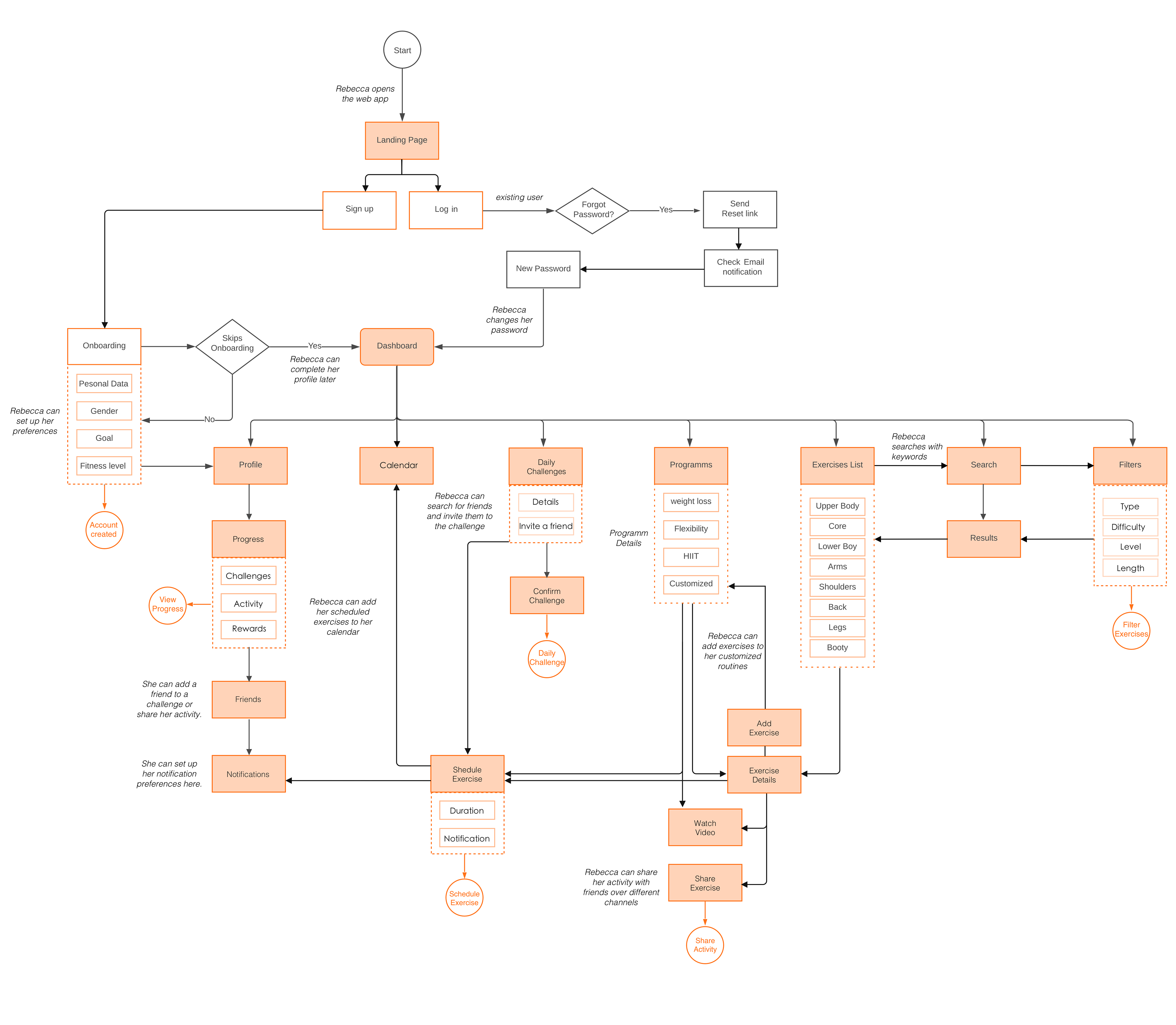 I started to sketch out some ideas on paper. This is a good method to see what works, what is necessary to be displayed and how the flow between the screens will work as user friendly as possible. The advantage of pen and paper is that you can
iterate quickly
. Through each fidelity step in the design process, I increased
the level of detail
and
corrected occurring failures
.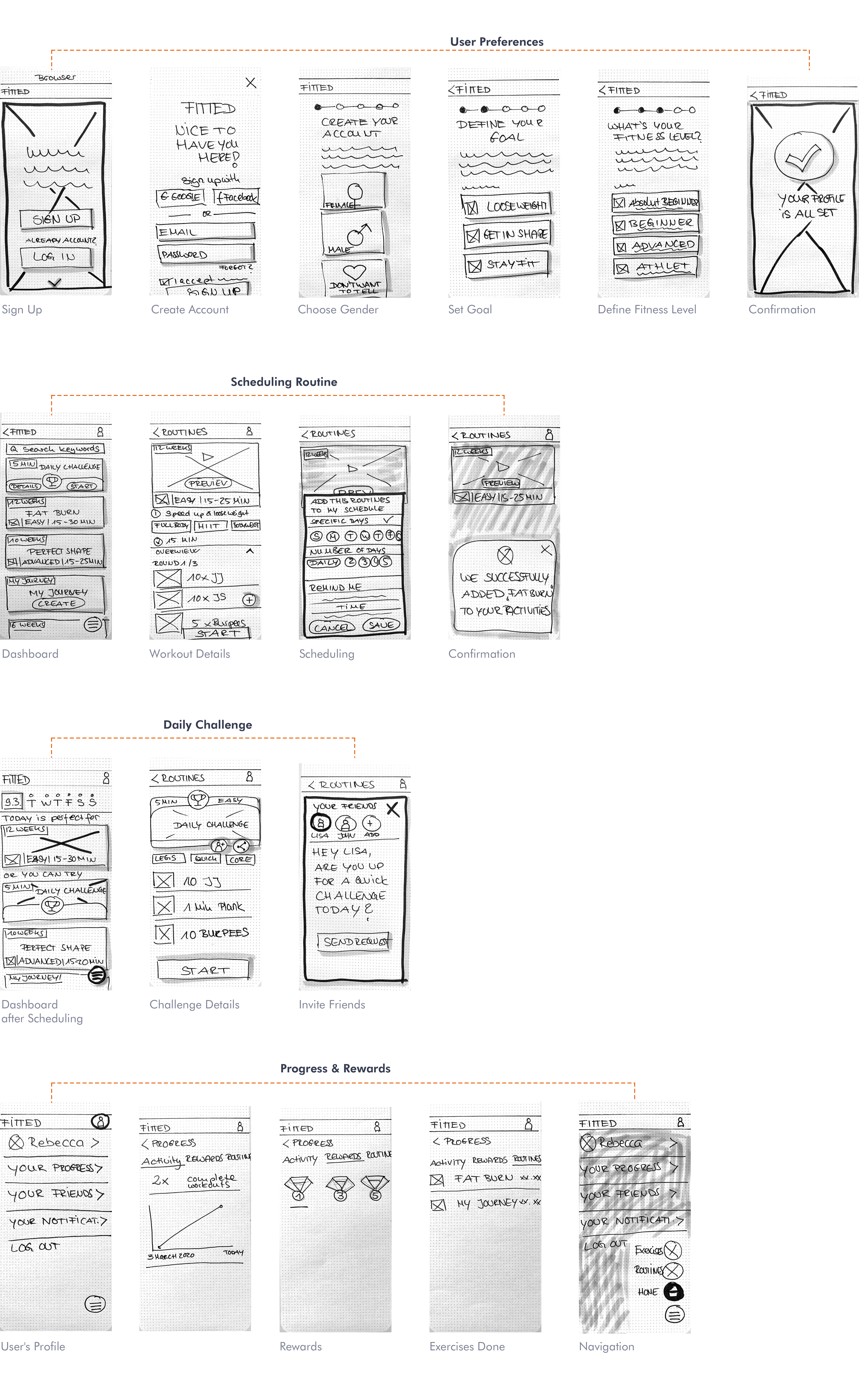 In my first drafts, I decided for a bottom hamburger menu. After a few
testings "on the go"
with friends, I changed it to a
tab bar at the bottom
. It addressed my users' need for better reachability and scannability in a fitness app.
Keeping in mind that the design was to be
a mobile first web app
I worked with a 
12 column grid. 
This would help me to adjust screens for different breakpoints later on in the process. 
By applying 
visual design principles
, like appropriate
hierarchy of UI elements
and
UI patterns
, I created 
mid-fidelity screens
. Here you can see a selection of the different flows: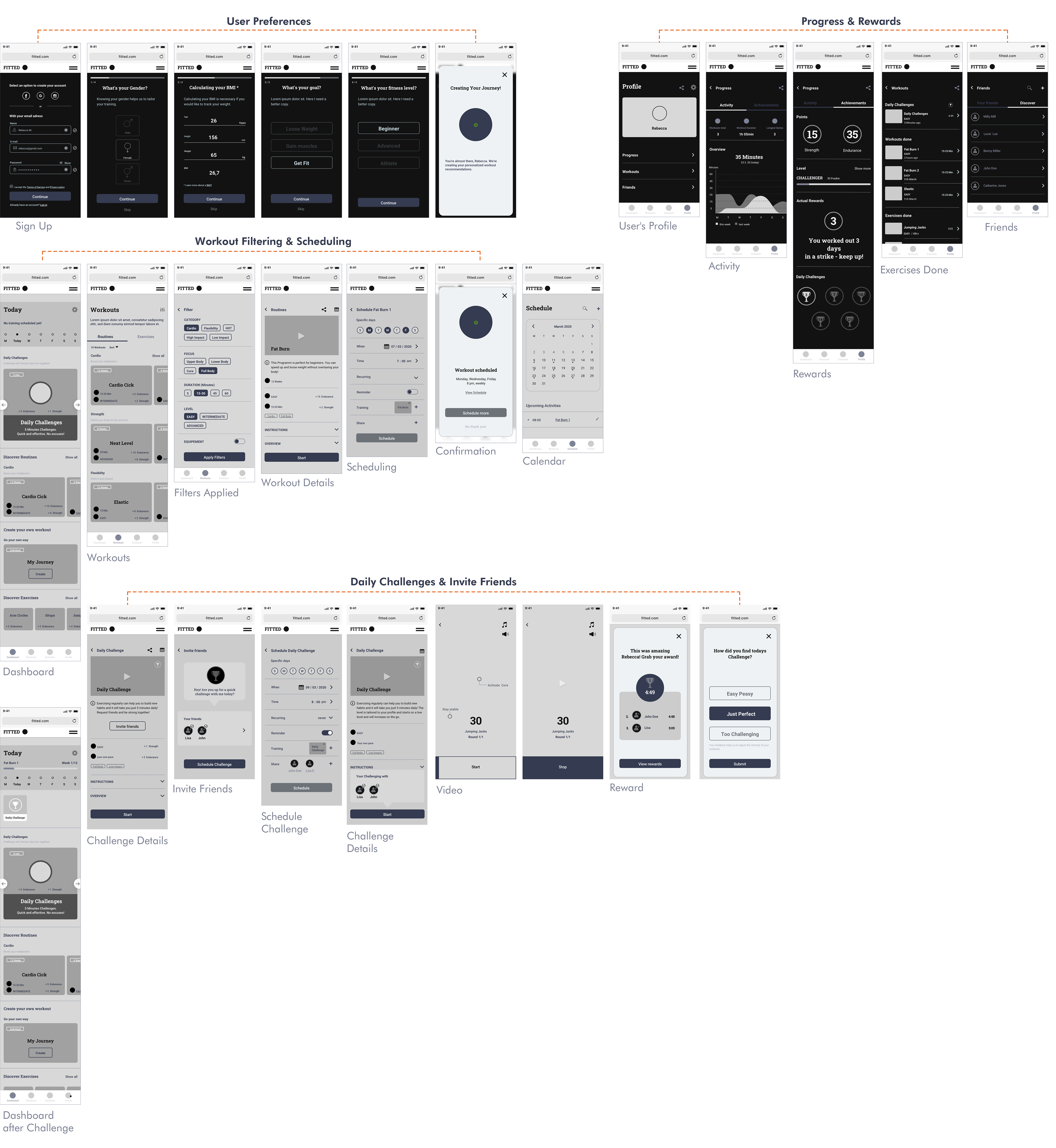 From the beginning of this project, I was eager to design for dark mode. As you can see in my wireframes, I was curious about it and just wanted to try it out. I was sure that it would perfectly fit with the topic of fitness. 
The
orange color evokes energy, strength, and balance.
 These design treatments reflect the goal of
encouraging and welcoming
those who are just new or returning to fitness and a healthy lifestyle. It fits perfectly with the grey colour palette.
Following this, I designed two variations of a moodboard:
one
bright version
and one for
dark mode: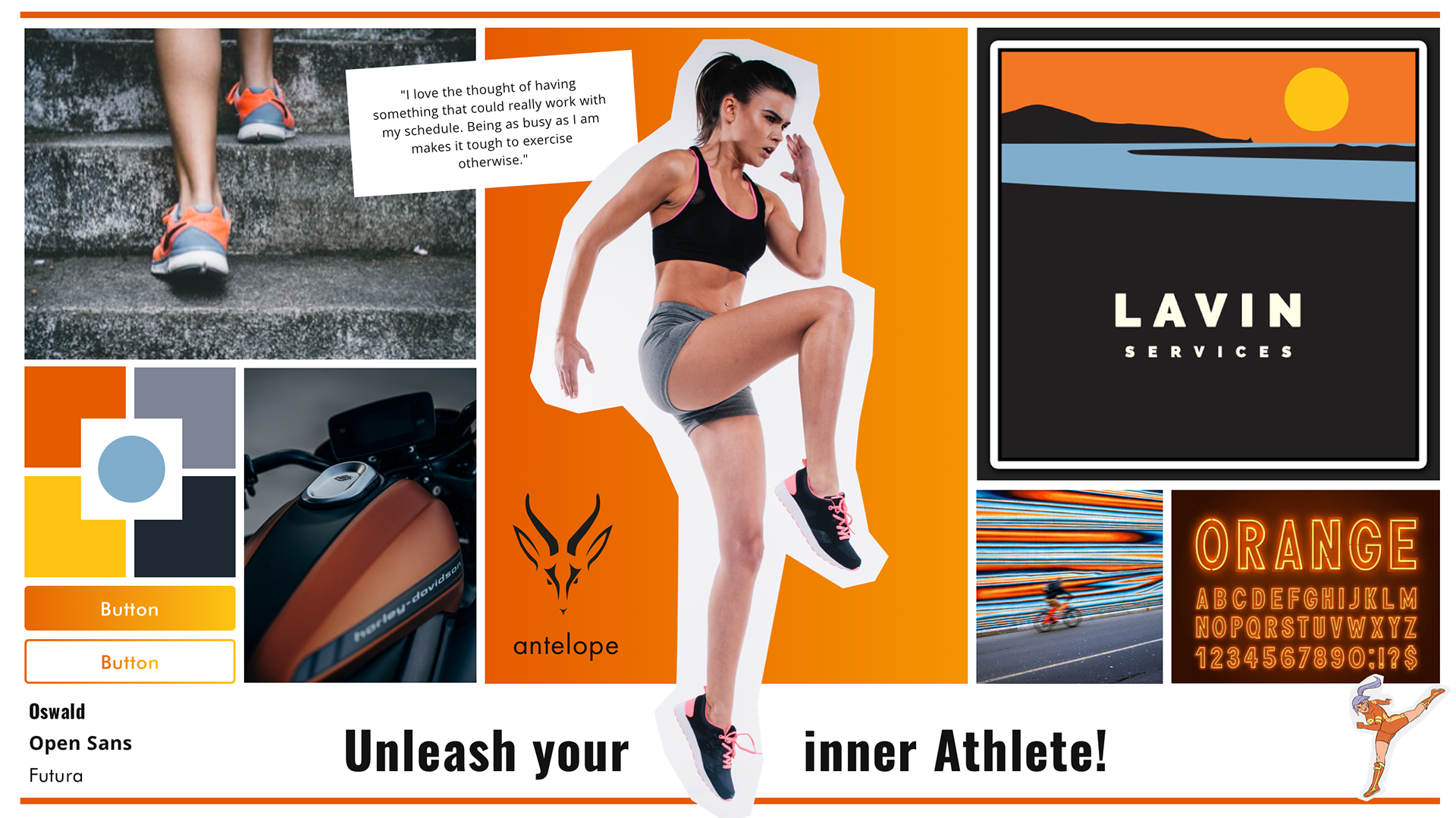 Presenting moadboard styles to my users made clear, that they prefer the bright version. So I applied this style to my screens and at the same time I decided for the
appropriate typography, imagery and iconography. 


The project brief came already with a brand name "Fitted".
I changed it to
"antelope"
during the iteration process. An antelope is known for its speed and elegant movements – a nice target to reach, don't you think?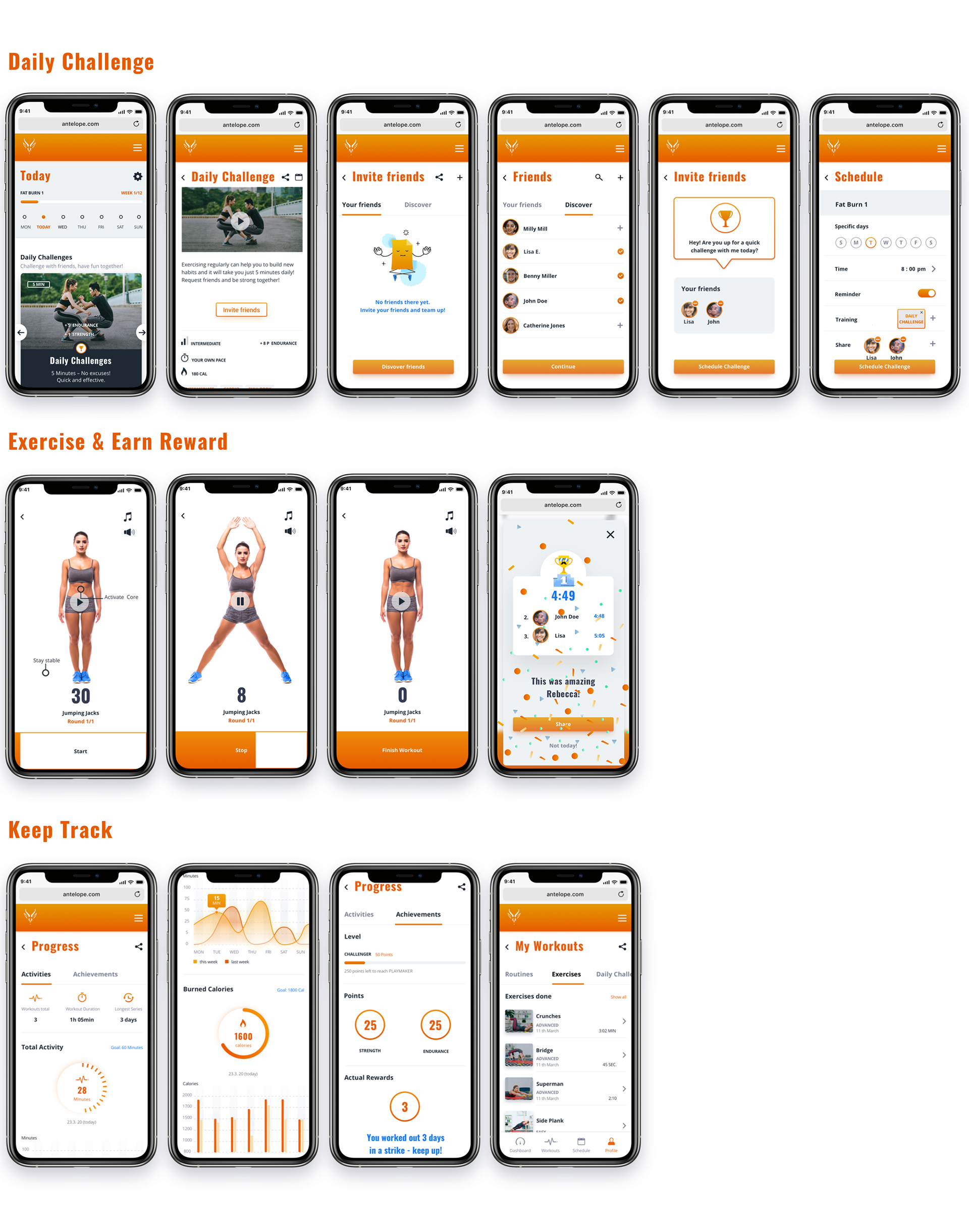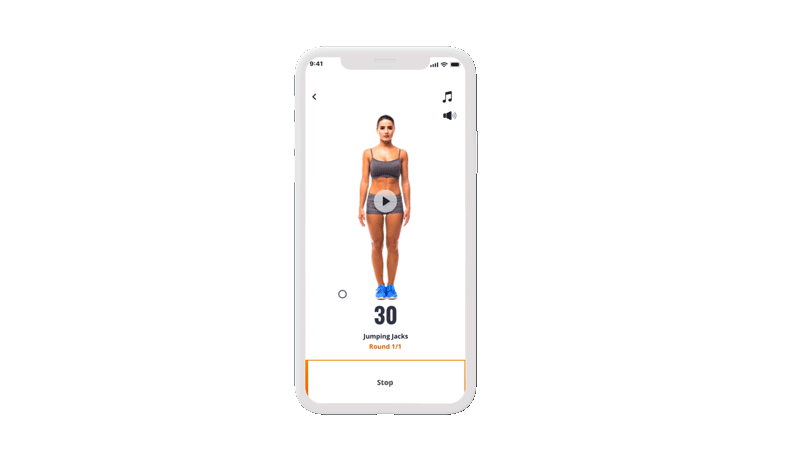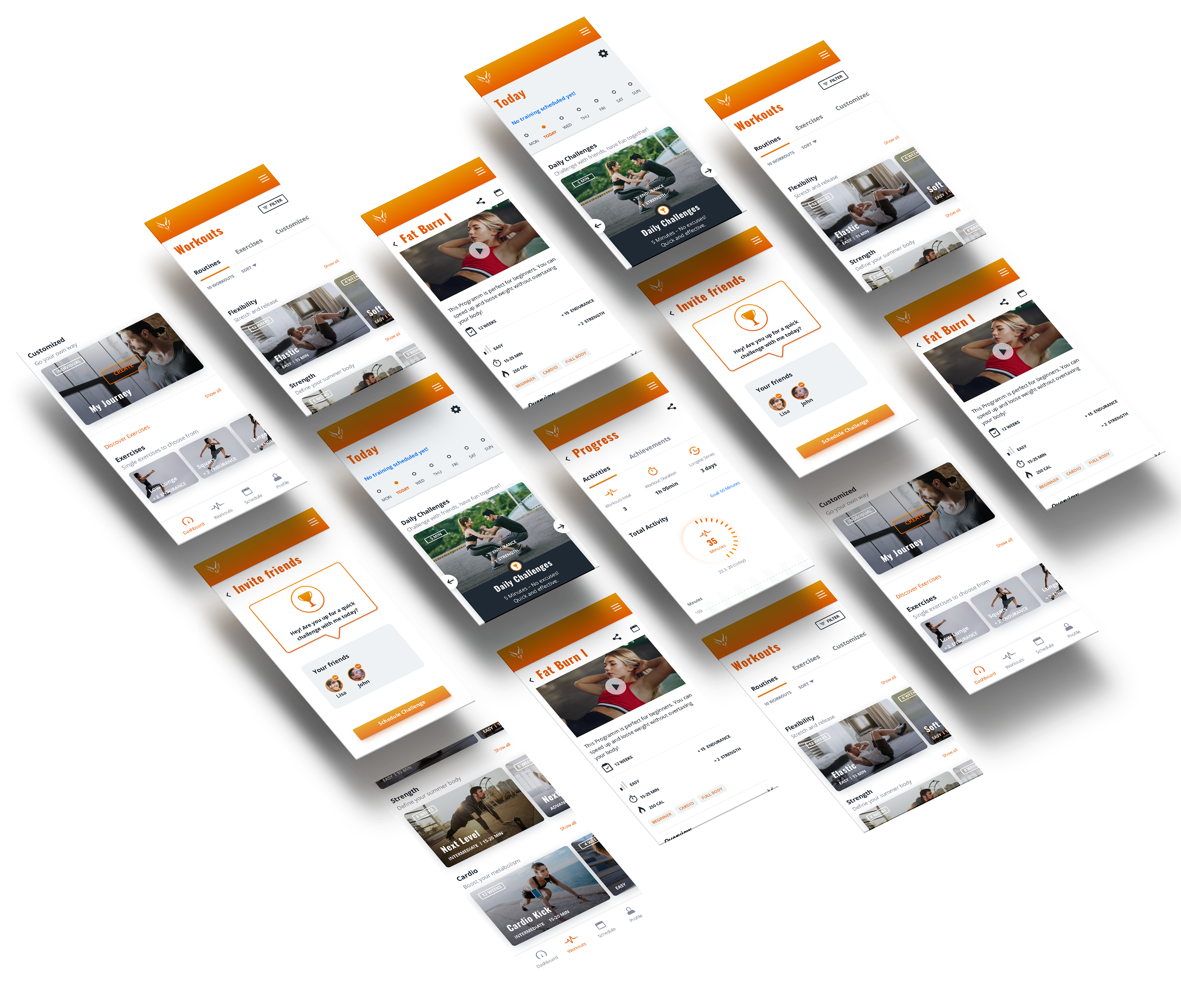 I created a
style guide
for a cohesive consistency and to assure the brands' design and the correct usage of UI elements.

I primarily designed this project with the mobile-first approach of being used flexibly and independently from a gym. User will probably use the
different devices for different needs:
mobile for working out outdoors, for instance. And they are more likely to use the larger formats for purposes like adjusting their settings or exploring further functionalities.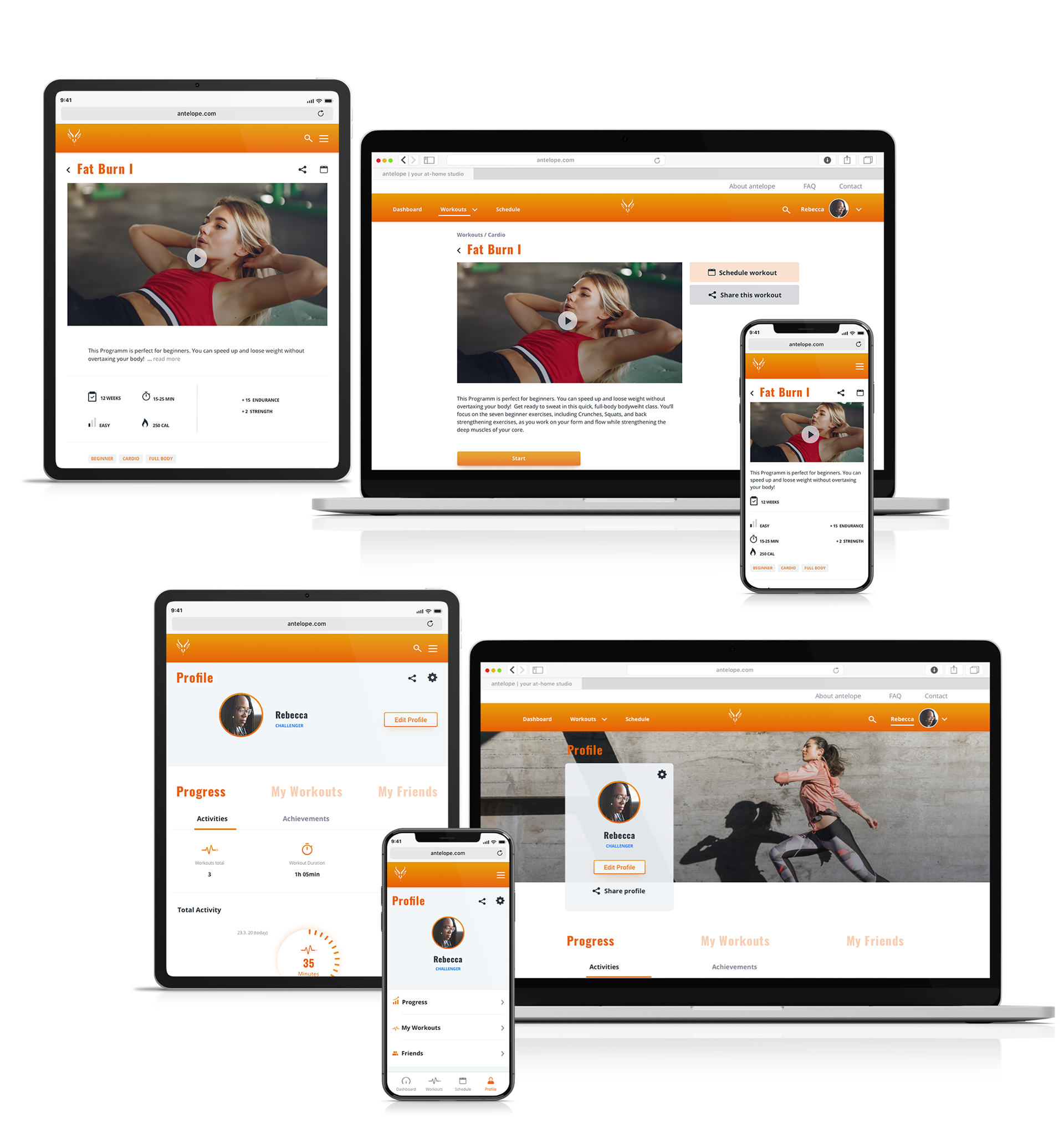 I'm always curious about learning new design tools. By choosing the UI specialisation course, I wanted to dig deeper into digital product design. This time I created my designs in Sketch and think that I had a quick learning curve. Encountering several problems while the design process, e.g. importing screens in prototyping tools like Principle gave me a good knowledge about handling symbols in Sketch ;-).

When I started designing I wasn't exactly applying the style which I had in mind. At first, I was sad to change my initial idea, but after all, I think it came along nicely in the end. 
I want to be more secure in designing responsive applications. It's not about making elements bigger! For my next responsive design, I will sketch out for different breakpoints from the beginning, rather than thinking about how to fill the space afterwards. 
The actual prototype is the result of many iterations, but I would feel more comfortable
having tested it with more users
and analyzed
if I met my users' needs
. That said that's a step of the iteration phase which I need to do in future.