PRODUCT: 
A responsive Web App

//

 
MY ROLE:
UX and UI Designer, Branding

// 
DURATION:
10 Month as a side project  // 
TOOLS:
Pen & Paper, Balsamiq, Google Forms, Optimal Workshop, Adobe XD, Photoshop, Illustrator, UsabilityHub // 
DATE:
2019
You're welcome to watch the product walk-through of levelup:
"levelup" is a responsive
web app
. It provides a platform for mentorship.
Advice seeking professionals need a way to get
quick and reliable help
from trustworthy experts, because they want to succeed in their new job or career level.
"levelup" was a personal project I designed through my Certified User Experience Course with CareerFoundry.
The goal
was to learn the design process from the beginning to the end of a responsive web app focusing on
Human Centred Design
and
Design Thinking
principles.
Searching the internet is time-consuming
and often doesn't lead to a satisfying solution. Especially when it comes to mastering a challenge on a job, getting real insights and personal advice is highly valuable.
With levelup users can create a free account and get
one-on-one advice
from mentors and career coaches  through different channels. They can search for mentors easily and
schedule appointments
for phone or video calls. An
in-built messenger
enables instant and quick connections.
To figure out if they are pairing with the appropriate expert, users get
a free trial
.
Even though I have been in the situation of looking for advice from an expert myself, I didn't have had any experiences with mentorship. I did not know what to expect from a mentor and how this relationship looks like. 
So I started to do a lot of research on the internet. Especially website from the US and UK helped to understand the idea.  With conducting a survey and interviews with my users I gained really good insights with which pain points my target group was struggling.
The
entire UX process
from conducting market research and competitive analysis, conducting user surveys and interviews, creating personas, designing the information architecture, journey mapping, content auditing, creating wireframes from low to high fidelity, making prototypes, usability testing, affinity mapping, design iterations and final design with handoff for development.
 Discover – Define – Ideate – Test – Refine
Discover & Define the Problem
Methods:
Competitive Analysis // Problem Statement // User & Job Strories // Affinity Mapping 
What are my competitors selling?
​​​​​​​
To better understand the scope of the problem I wanted to solve, I analysed my competitors on the market. I focused on their
strengths, weaknesses, opportunities
and the
threats
they might face with a
swot analysis
.
​​​​​​​
The analysis helped me to form a
problem statement
and my strategy for levelup by identifying opportunities:
•

Give transparency throughout each process.
•

Focus on key objectives.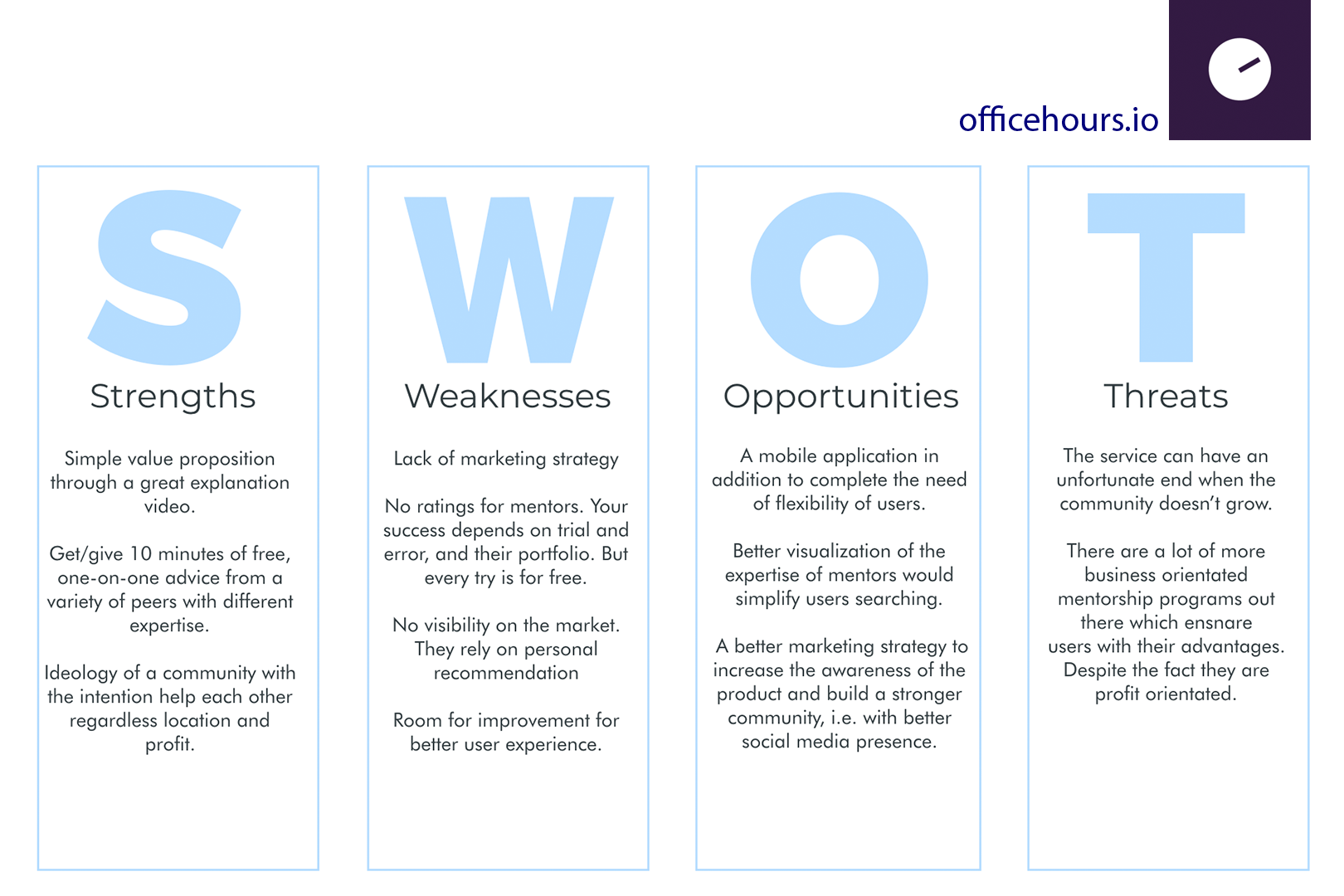 Now I knew the market, but what about my target group? Who are they? What do they really need? For better insights, I conducted an
online survey
to get an overview of how my target audience is seeking for advice, and what their
pain points
are:
•How do my users behave when they are seeking for advice?
•Which sources are they using to get advice?
•Which tasks would they like to complete while seeking for advice?
•In which context would they probably use a mentorship service?
•What makes a mentor trustworthy?
This quantitive data gave me an overview of my participants thoughts.
In-person interviews
with 5 participants of my potential target group, helped me to dig deeper and understand the problems better.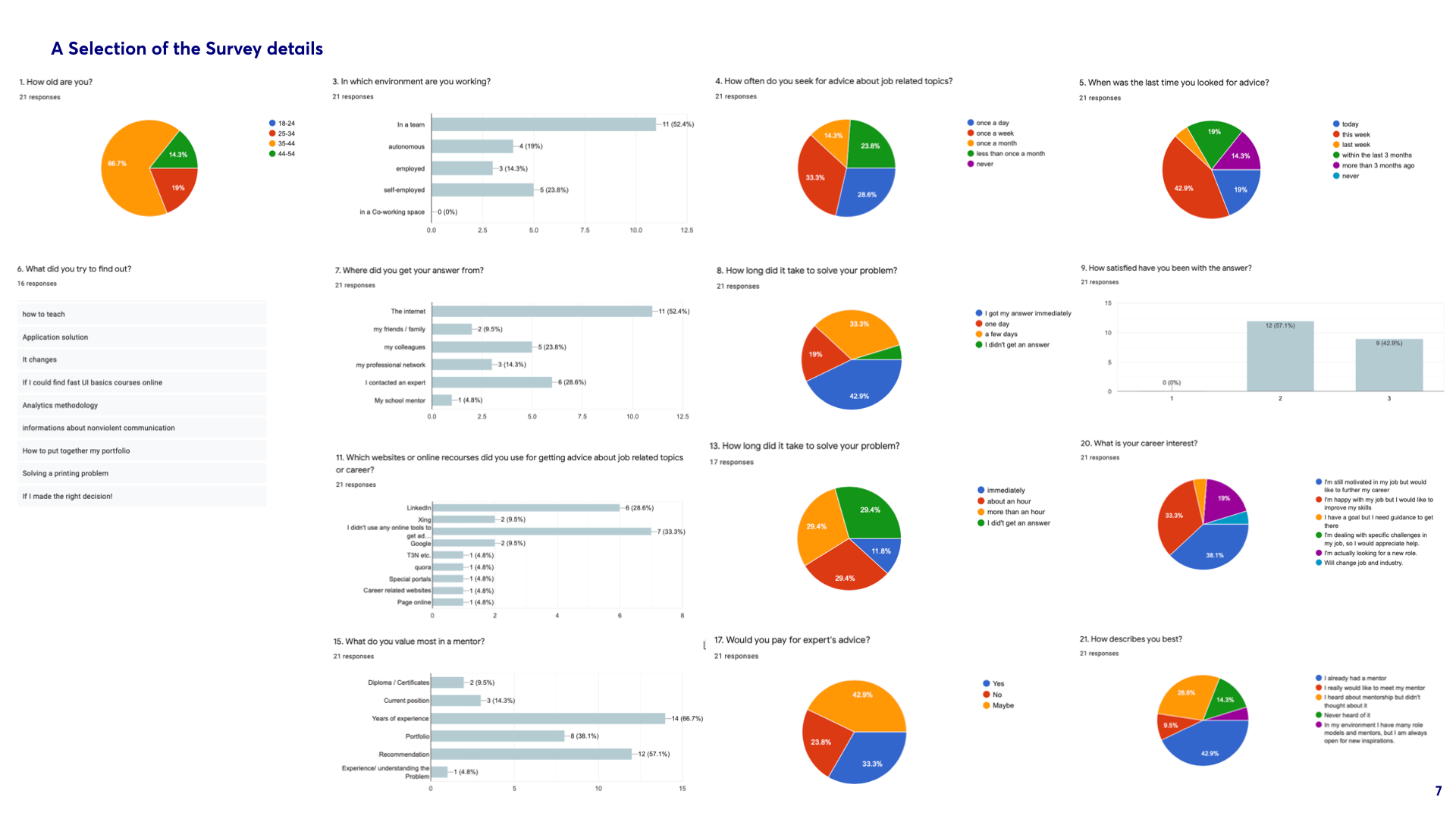 I got a lot of great insights through the interviews. I gathered them all and did an
affinity mapping
to see patterns of
behaviour, attitude, needs, goals
and
pain points
.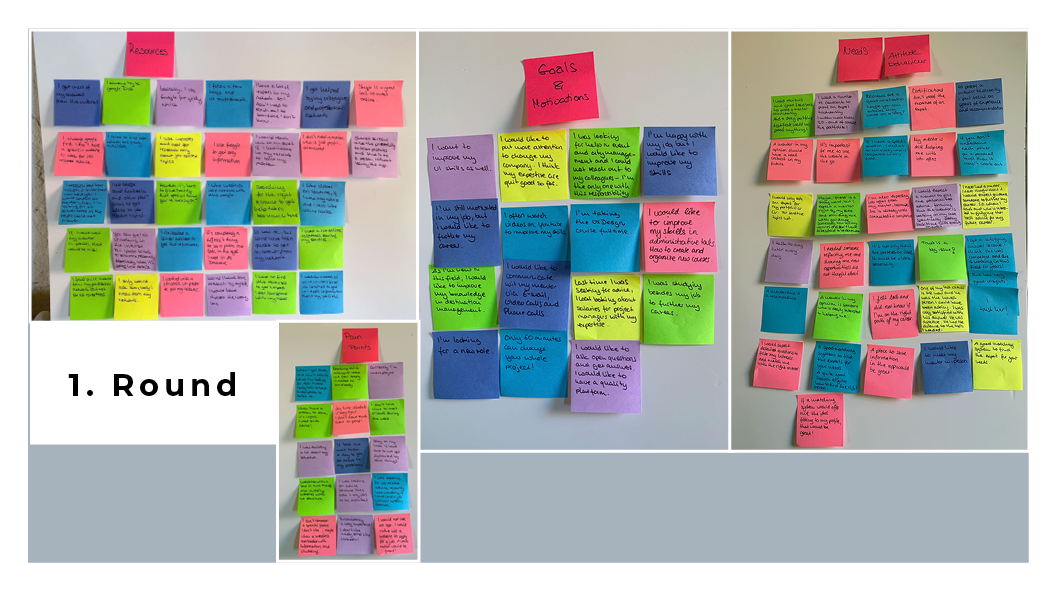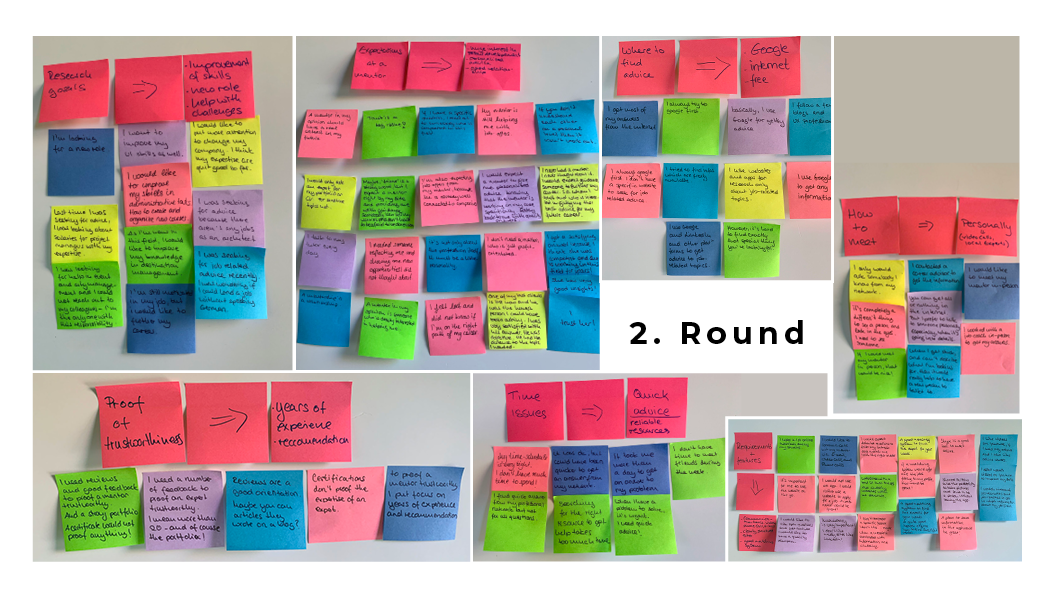 •Most professionals would like to improve their skills and to further their career or knowledge.
•People are trying to find help on the internet. Facing a specific problem, they want reliable advice and put a strong value on their professional network. 
•To trust somebody people don't know and talk about sensitive topics needs proof of security and trust. 
•Years of experience are more important than certificates or a degree.
​​​​​​​
Methods:
User Personas
 // 
User Journey Maps 
//
User Flows
Taking the findings from the survey and the interviews, three main personas evolved: 
•Ava
(is looking for a new role). 
•Isabel
(wants to further her career). 
•Jason
(wants to change his career).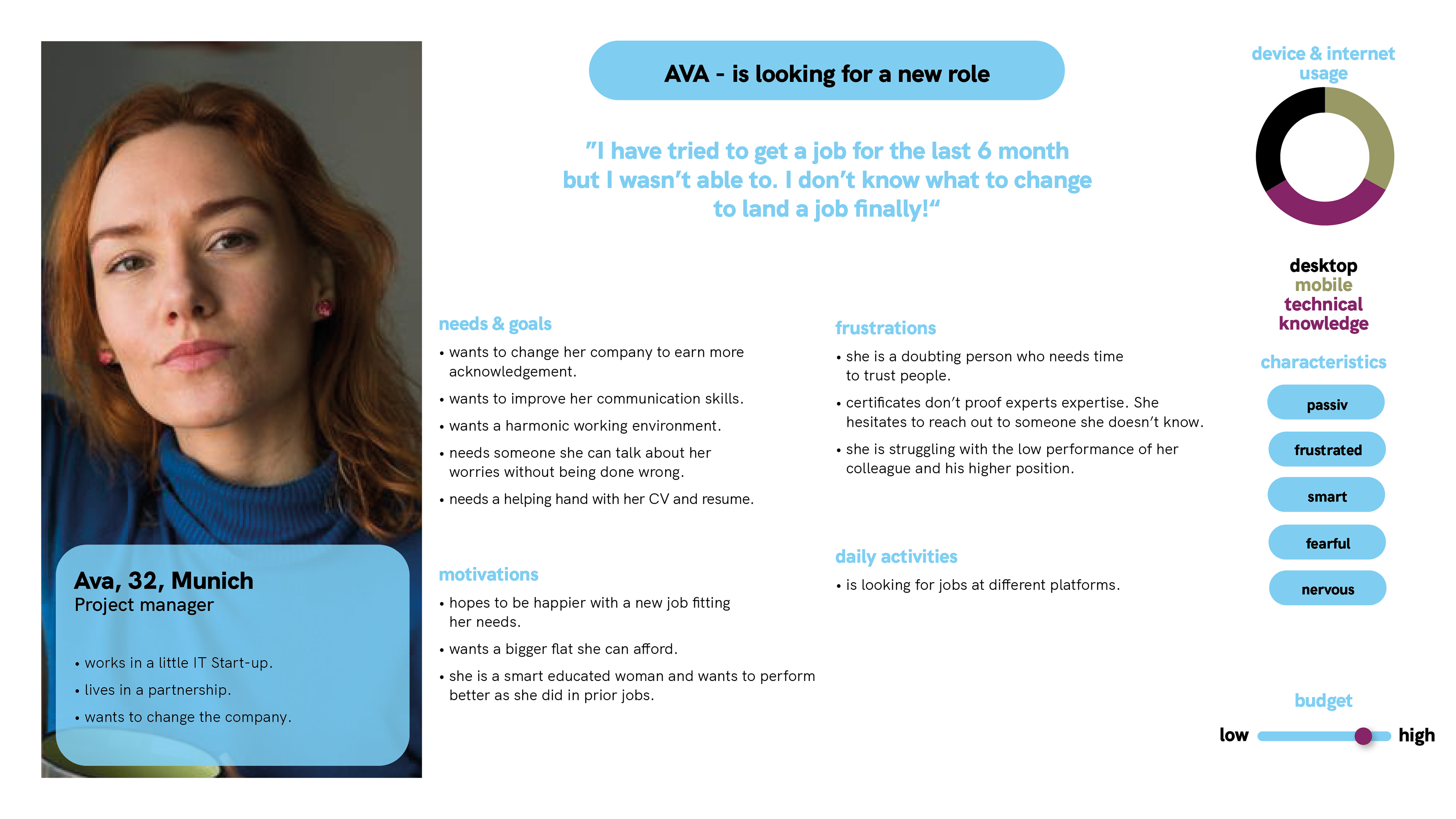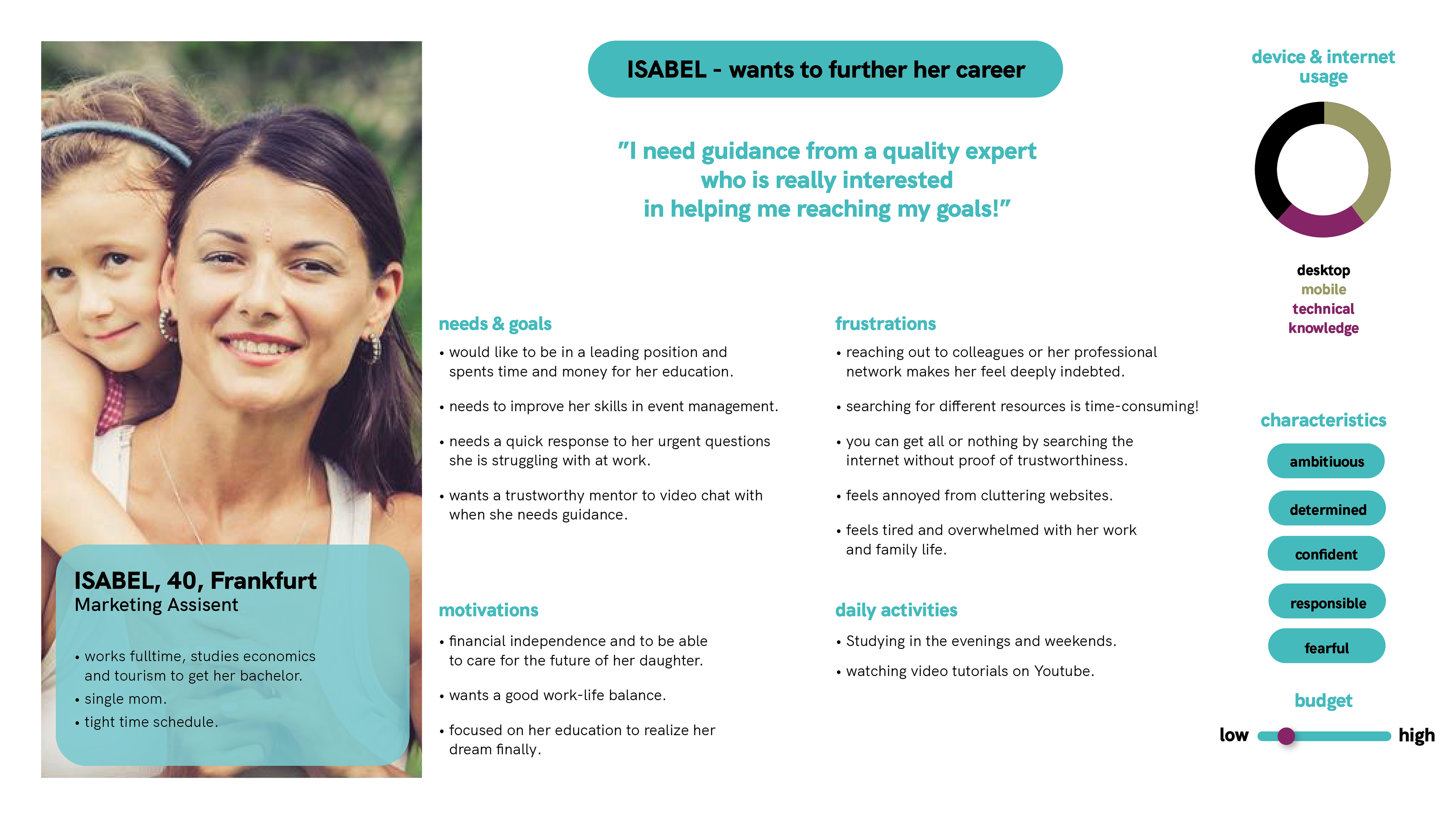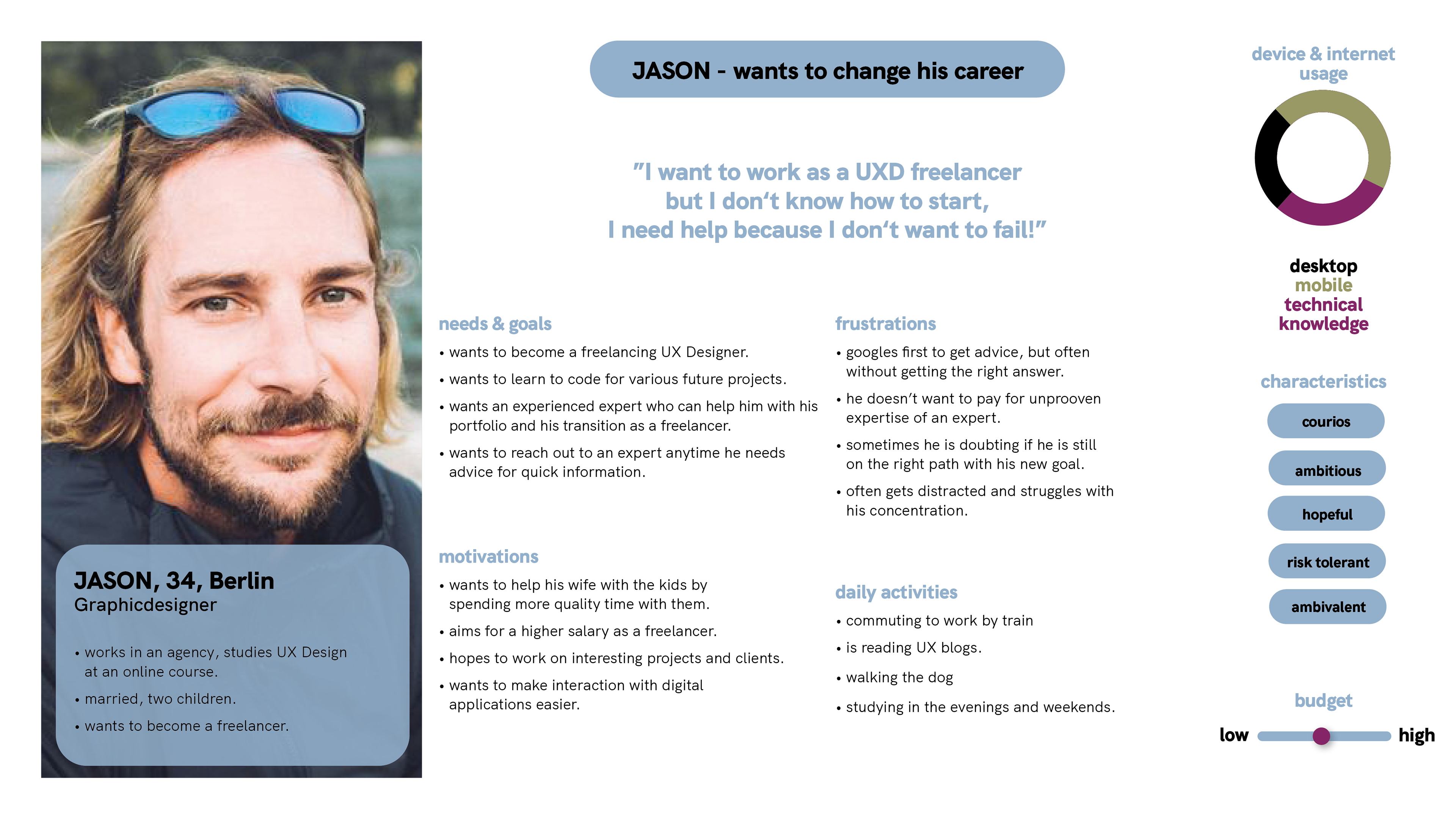 What challenges are the three personas facing on their way to succeed?
User journeys
and
user task flows
helped me to sympathize with the challenges and experiences on their way.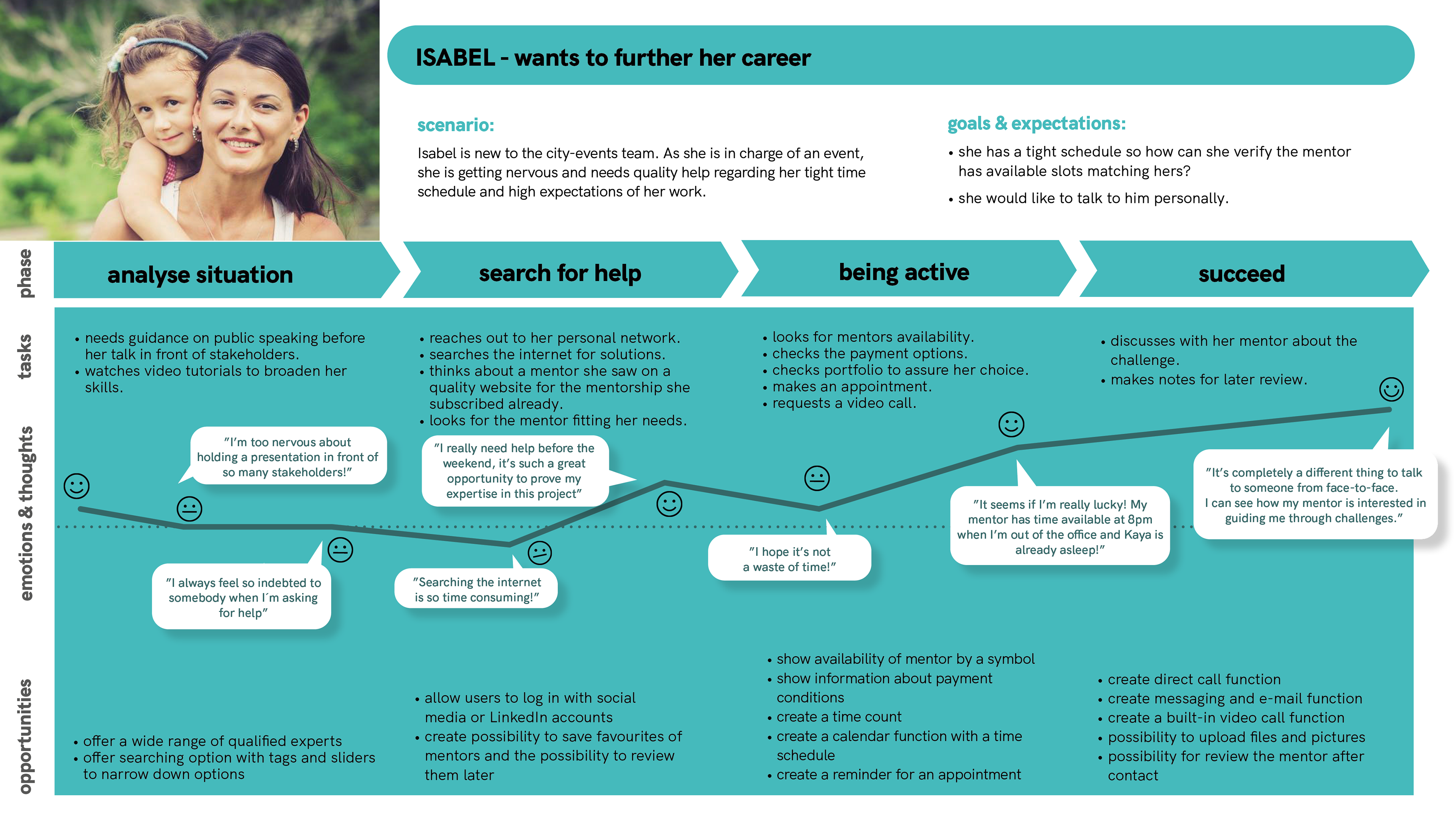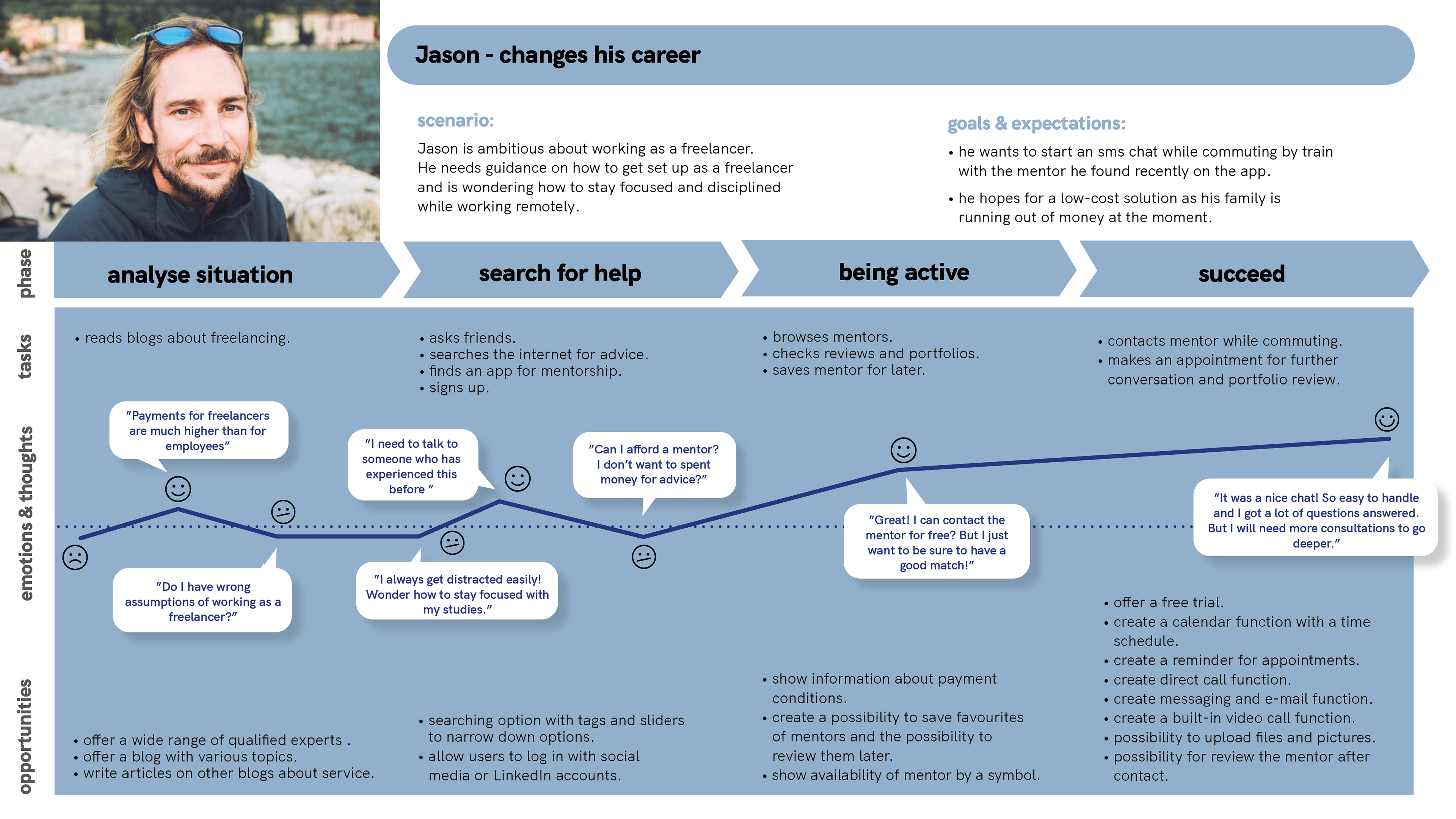 User flows
built the basis of the first draft from the upcoming
sitemap
. The next step would be to see, what my users would assume to find in which part of the web app.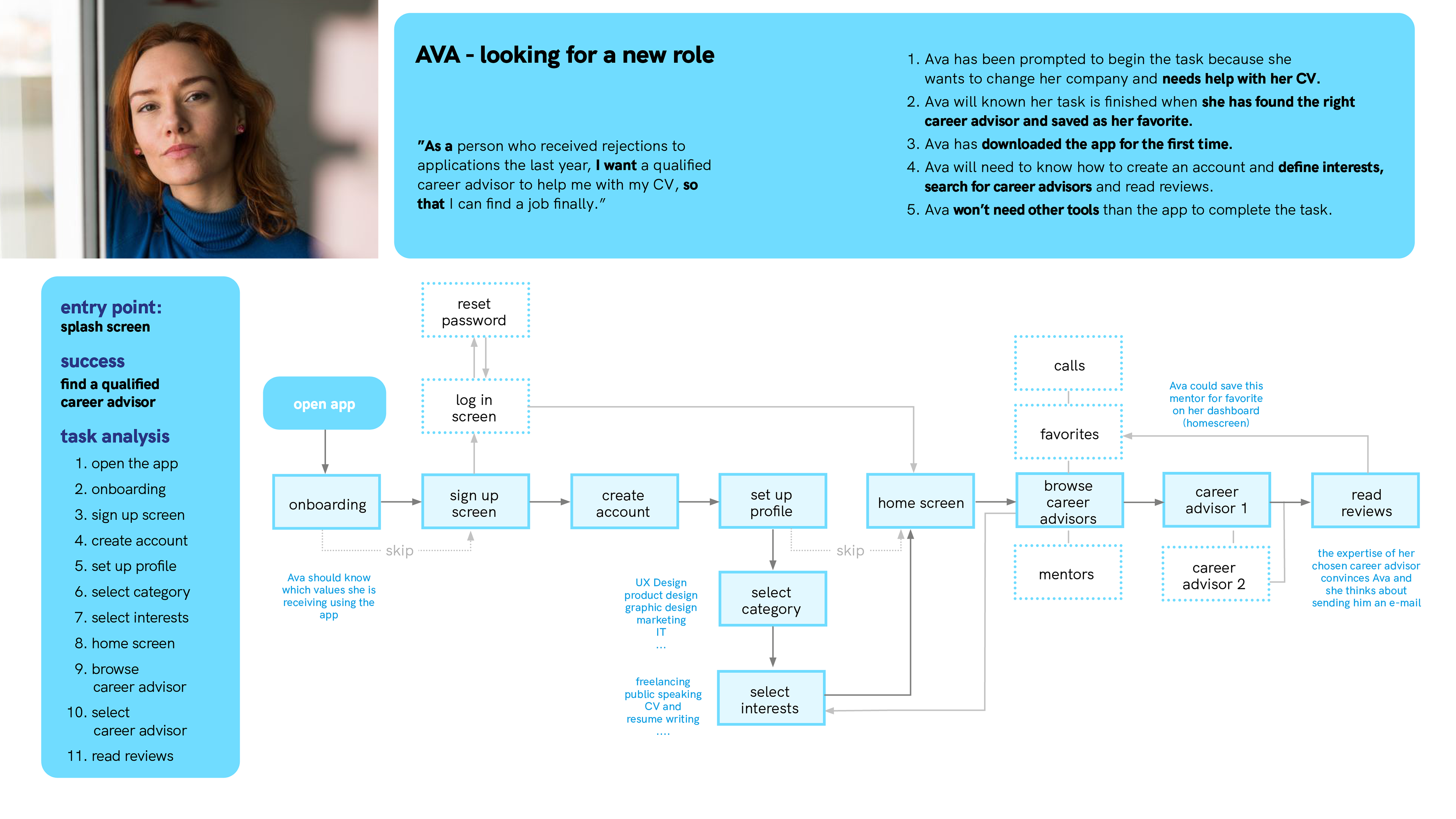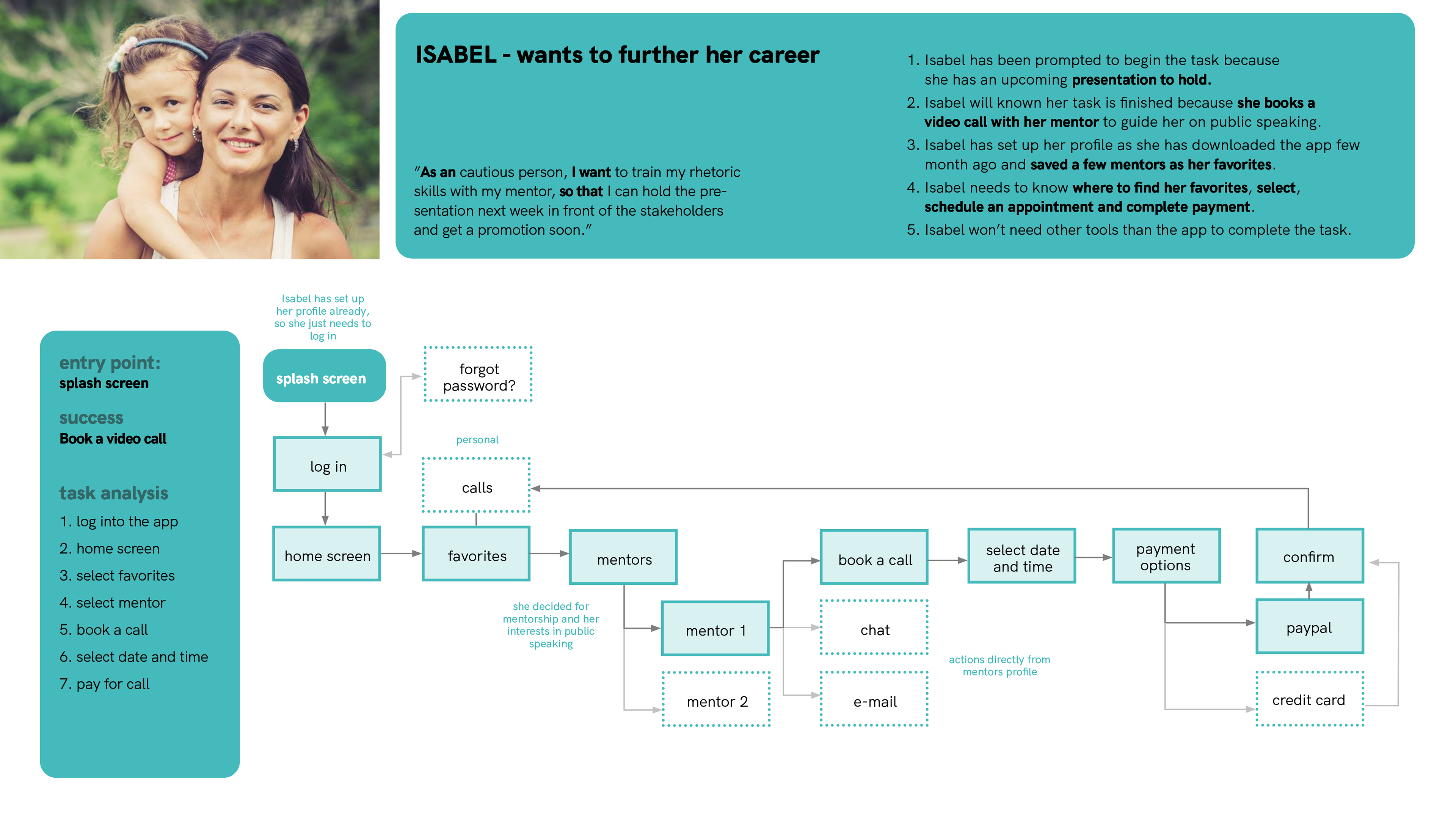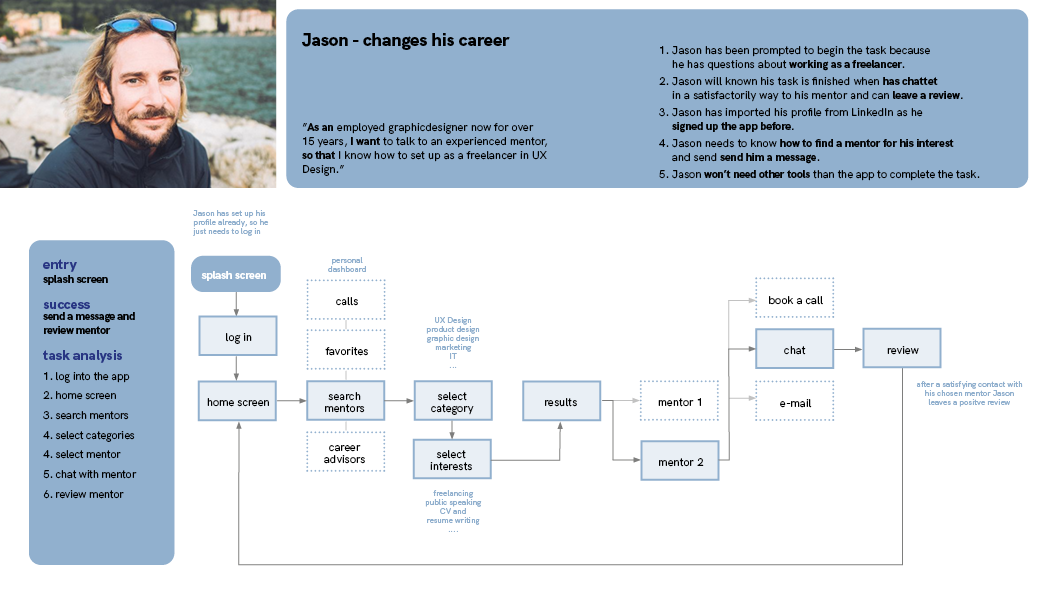 Methods:
Card Sort // Information ARchitecture // Wireframes & Prototypes 
An
open card
sort was conducted with 10 participants and 27 cards. I have had high expectations of my card sorting and the inconclusive results surprised me. Maybe my participants have been overtaxed with the classification into different categories? 
I decided to go for another try and guide my users a little more: With a
closed card sorting
(22 cards and 4 categories) everything became clearer and so I could refine my IA according to the results. I didn't have to make too much changes and all the prework was worth it.
Starting with pen and paper, I tried a variety of navigation types with rapid prototyping, like the
hamburger menu
and the
bottom navigation
. Since I don't have more than 5 main categories here, I quickly decided against the hamburger menu and put
navigation on top
to make everything as visible and recognizable as possible for my users.  
It was indeed an important step in the process of building the product because since the project brief expected the web app to be responsive, I was focusing too much on doing everything right. Of course, this was not possible for me to fulfil in these early stages since the process is iterative.  
After a lot of drawing and trying, I went on with
Adobe XD
and created a
mid-fidelity prototype
for the usability testing.  



Methods:
Usability Testing // A/B-Testing // User & Job Strories // Affinity Mapping 
I was really curious about the usability testing! Will my participants be able to fulfil the given tasks? Am I on the right path with my objectives? But before I could dive into the testing, I needed to make sure I was well prepared for the testing phase. I formulated a
test script
and a clear
testing plan
. This would also help my participants to feel as comfortable as possible while being tested.
6 participants
were recruited from my personal network and were asked to complete
3 task flows
and asked the level of difficulty after having moved trough each task. The
rainbow spreadsheet
was a good way to illustrate the findings and prioritize
5 usability errors
and make appropriate changings in the next iteration phase. The testing made quite clear to me where the pain points with my prototype are and where I have to improve. The errors were rated according to
Jacob Nielsen's 5 Components of Usabilty
. In conclusion, the testing was successful!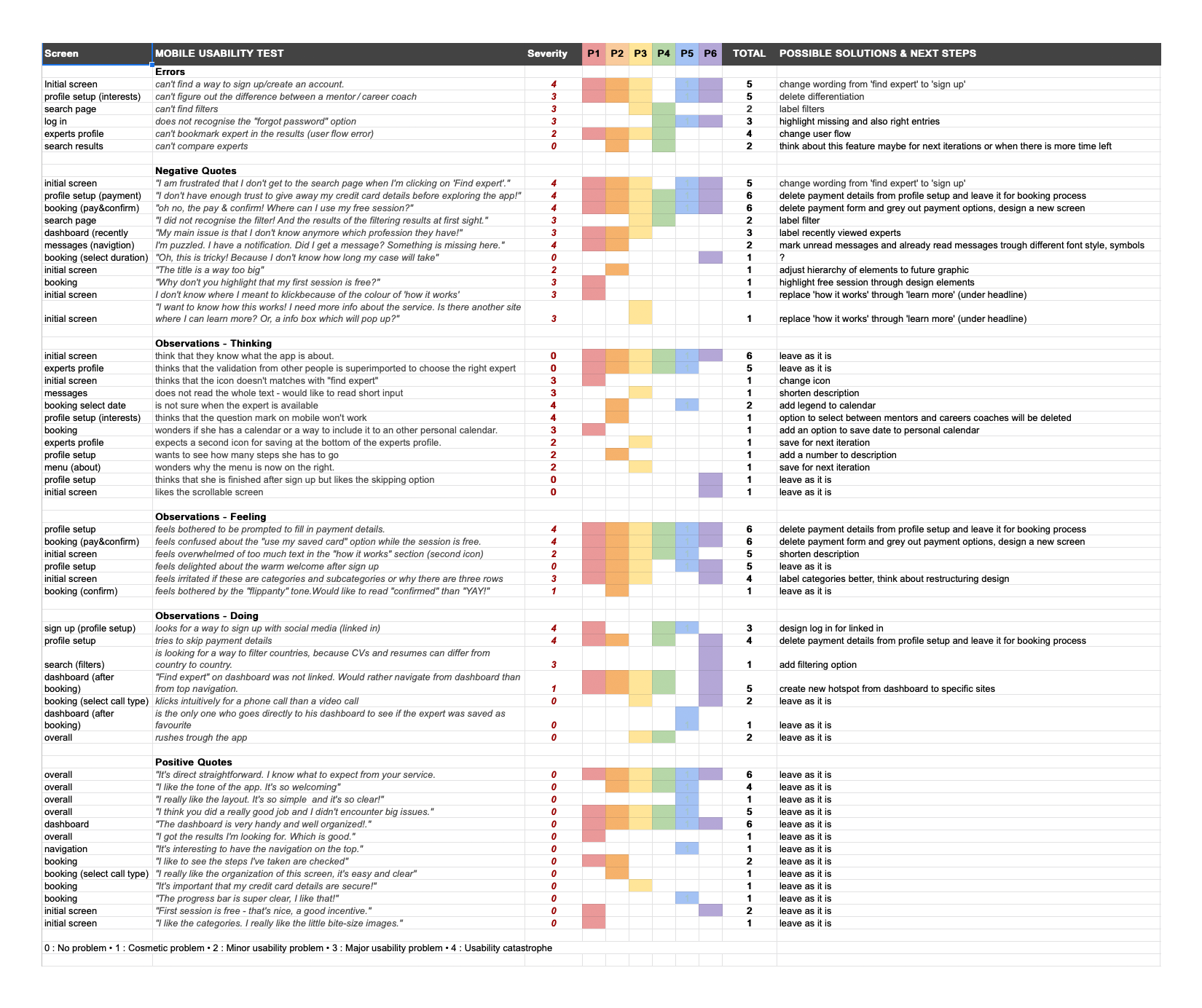 A/B testing, preference test
For further development of my project, I decided to test the header of my initial screen and the top navigation bar, e.g. on the dashboard, in interaction with colours of my chosen colour palette.
The goal was to find out which design was more appealing and functional in my user's opinion.
Methods:
Interface iteration // Style Guide // Accessibility 
I decided very early to use a clean and simple design, but to shine with
motivating vibrant colours
. 
I reached out to
peers
and asked them to
review my web app
, since I needed a fresh pair of eyes looking at my screens. Major changes weren't necessary. 
Most changes referred to cosmetic issues like incorrect spacing or adjustments. They were suggestions, but it was
great to get this feedback
, and I agreed with most and implemented them in my UI. 
Consistency is very important for a
harmonic and appealing UI
, so I created a design language system and a
style guide
.
 I included rules for:
•Images and Illustrations
A selection of the (final) screens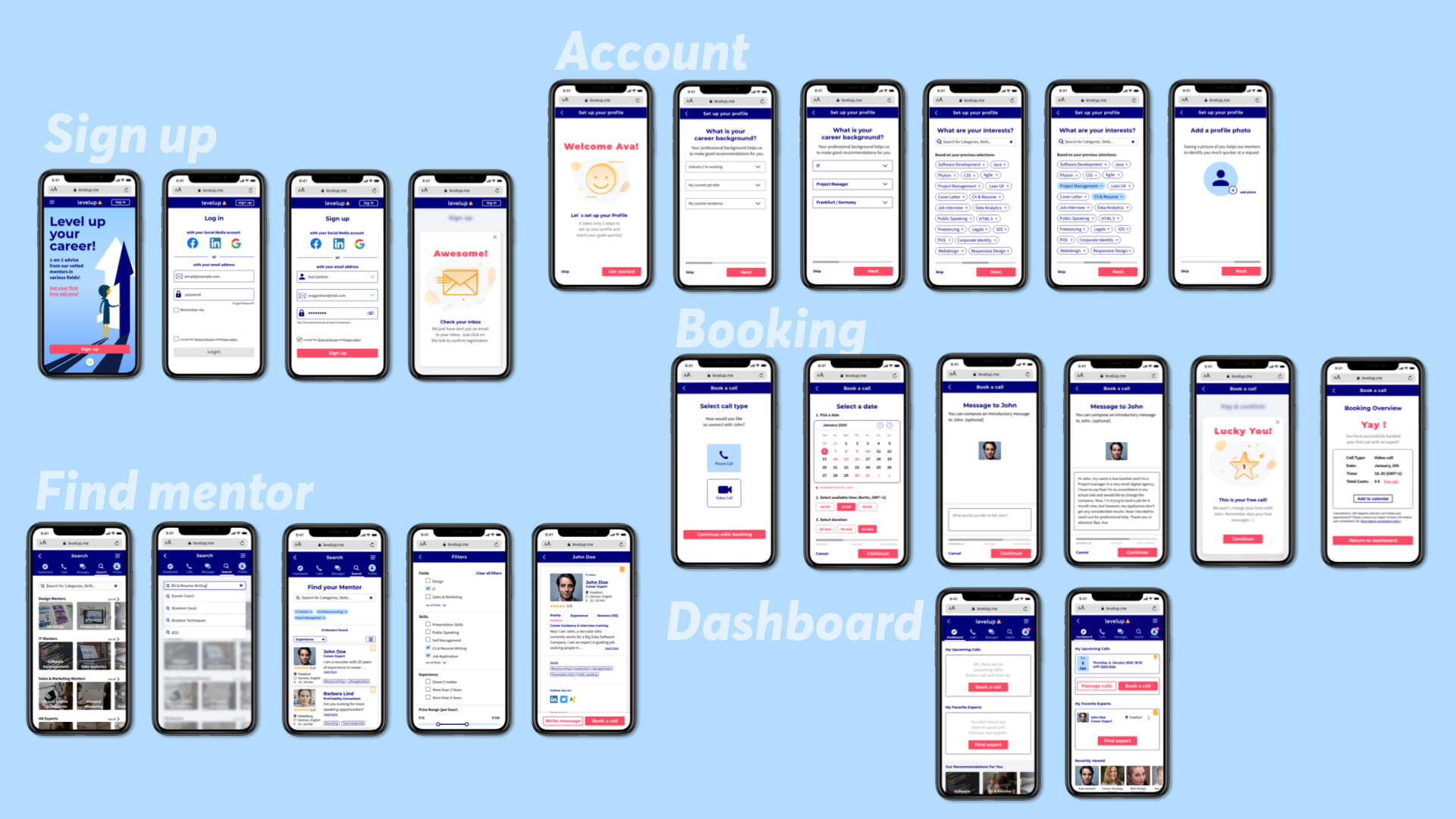 Having
good communications skills
helped me a lot to engage with my users through the interviews and usability testings later on. I also could estimate the scope of the tasks and therefore
organise and structure
the schedules for these interactions. I was well prepared and enjoyed this process. My software skills as a graphic designer have been an advantage to learn new design tools like Adobe XD. I applied
design principl
es
and worked with grids since the beginning intuitively. This saved me from serious modifications on my design.
Even though I've been a graphic designer for many years, I didn't work based on researched data. I learned how difficult it is
to ask the right questions
and how impactful it can be to do research properly. Doing affinity mapping after user interviews and usability testing was quite fun, and I got so many powerful insights from my users.
Design is a matter of taste but
it's not about creating fancy designs only
. I never did so many iterations in my design process. Staying open-minded and receptive to all the feedback that was given, helped me taking things a step further to make sure that I carefully considered everything and made refinements to get to my (end) product. 
Feel free to play around with the prototype!