PRODUCT: 
Low-Fidelity Prototype (Paper-Prototype) 

//

 
MY ROLE:
User Experience Design, User Research, 
Usability Testing

// 
DURATION:
4 Weeks as a side project  // 
TOOLS:
Pen & Paper, Illustrator, // 
DATE:
2019
This project was part of the intensive course I did with CareerFoundry in 2019. It puts its main focus on User Research where the hypothesis and the process of pursuing the results are featured. It helped me to broaden my knowledge about UX tools and techniques.
The goal
was to learn the design process focusing on
Human-Centred Design
and
Design Thinking
principles in a very short time.
Many people use apps to learn languages, but few of them stick to it – new excuses and distractions pop up constantly. The task was to
find a way to motivate
users to regularly occupy themselves with the language they want to learn. 
In a short timeframe of 4 weeks, I was responsible for the
user research
,
conducted user interviews
and
analysed the results
. These results as a starting point I could create my
user personas
and
user flows
. With a feasible
sitemap
and
sketching
, I put together my
wireframes
as a 
low-fidelity prototype
with the help of Prott.
Discover – Define – Ideate – Test 
Discover & Define the Problem
Methods:
Competitive Analysis // Problem Statement // User & Job Strories 
What are my competitors selling?
​​​​​​​
At first, I had to look at the market and get an overview of existing vocabulary learning products. Therefore I carried out a quick
competitor analysis
.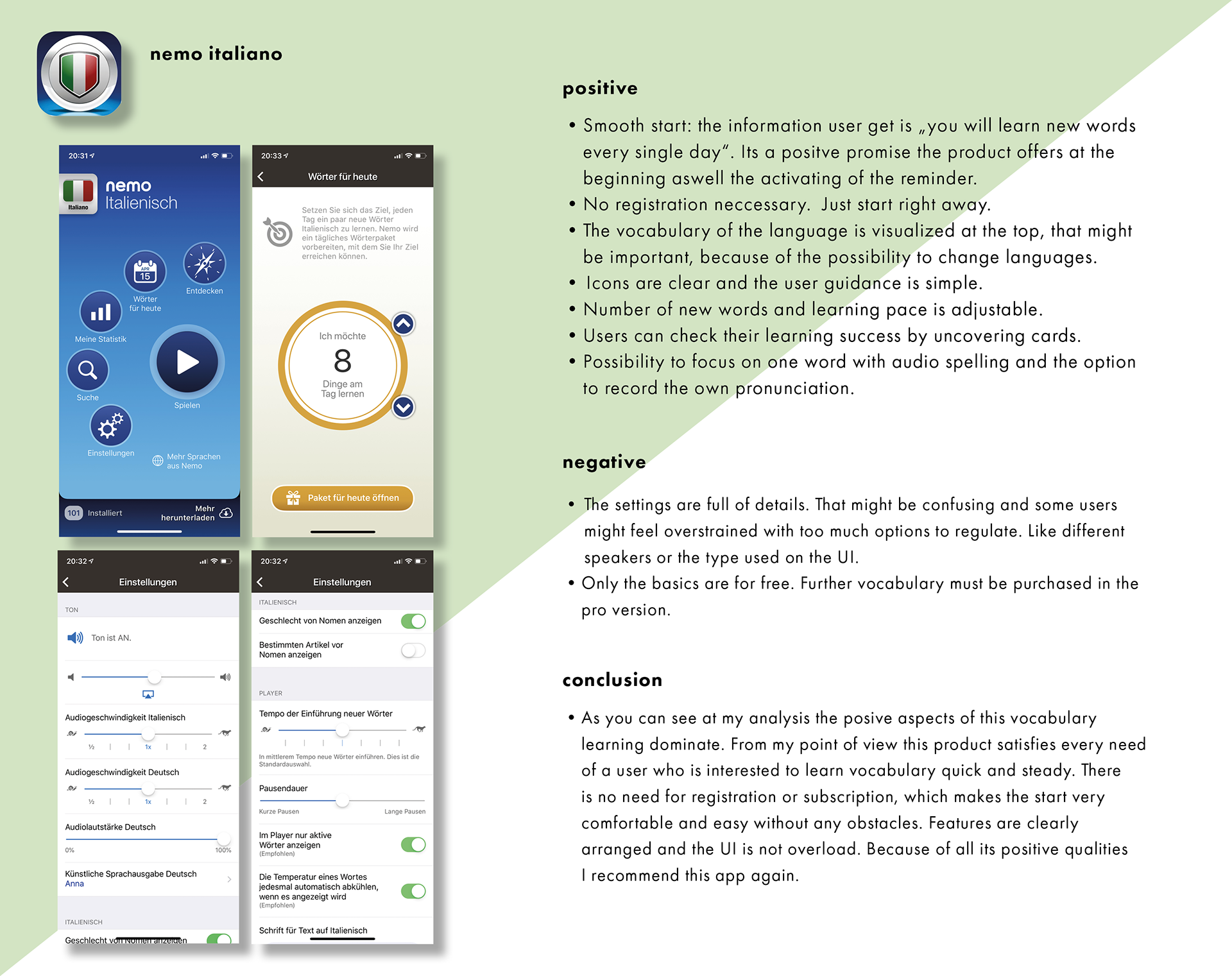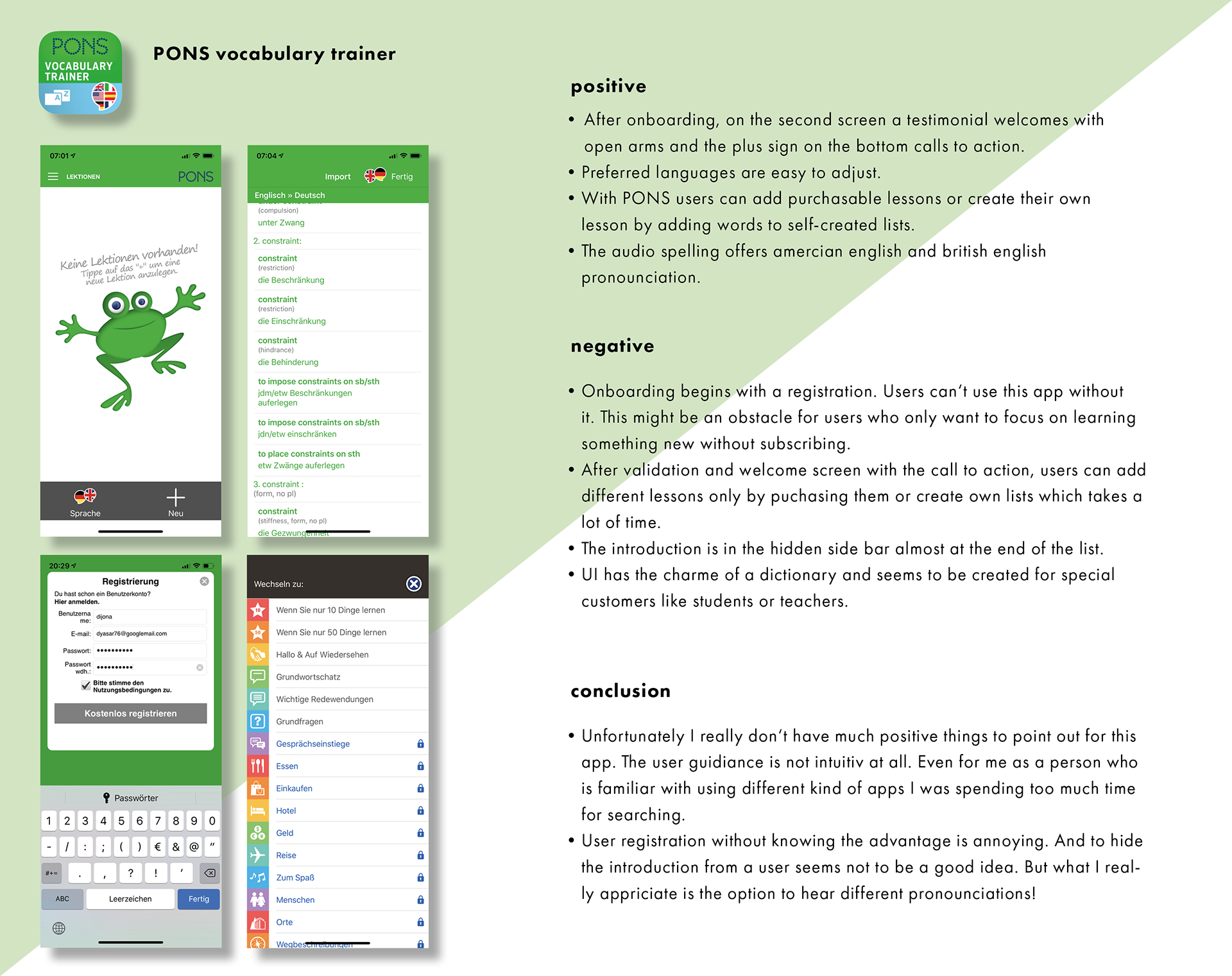 To get a better insight of the needs of my target group, I conducted
interviews
with three potential users. All participants had recently tried to learn a new language or planned to do so soon. Not all of them had experience with using vocabulary apps: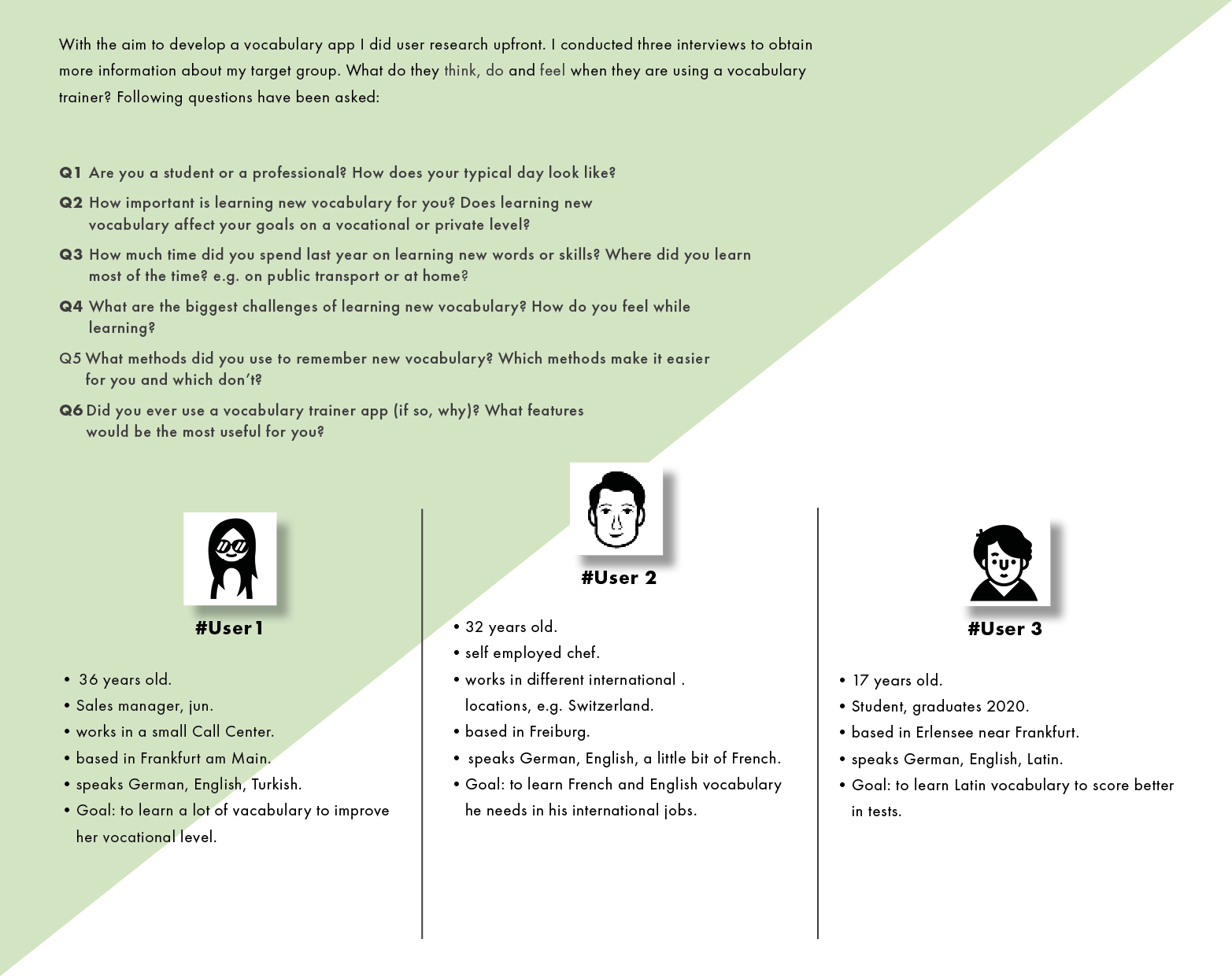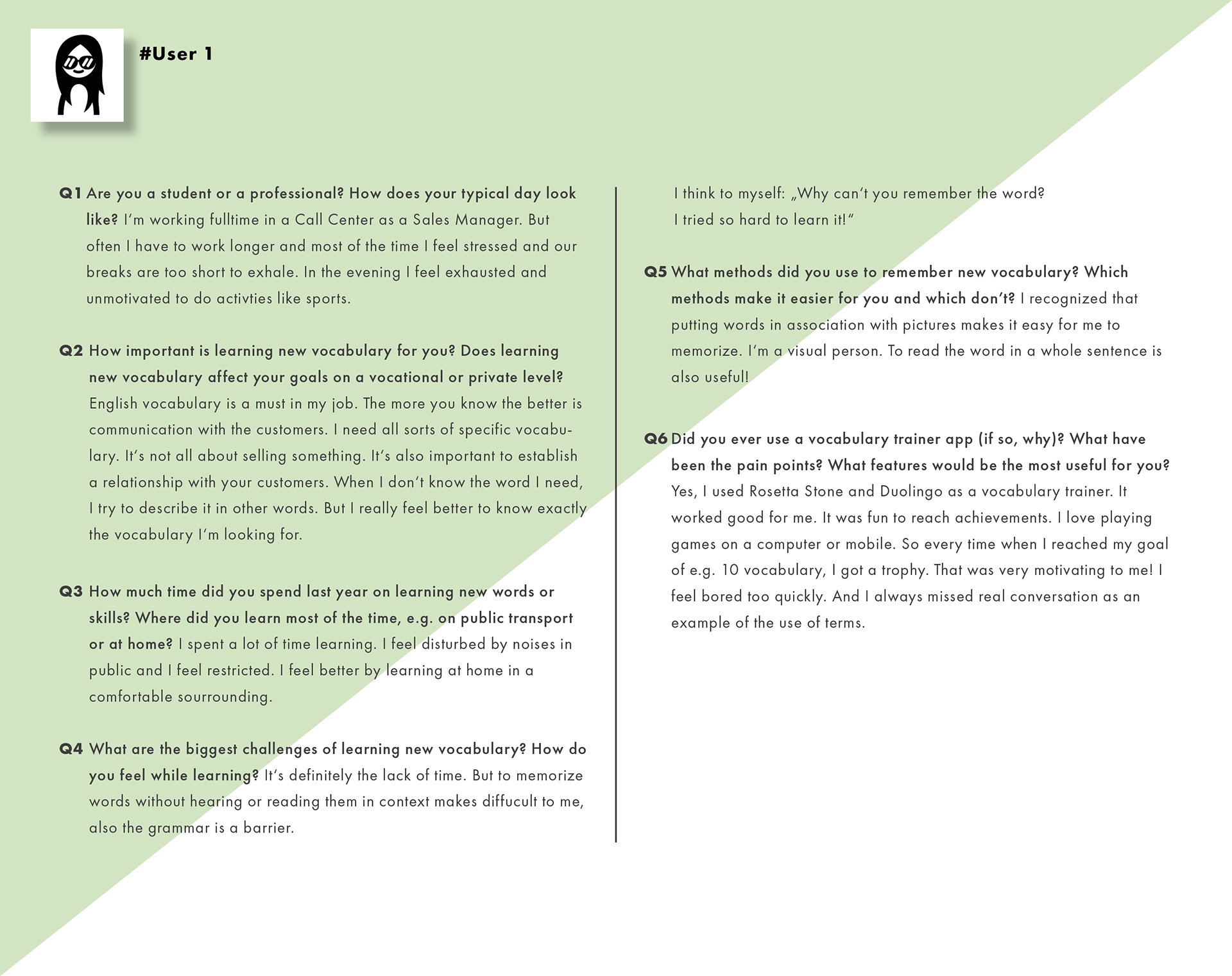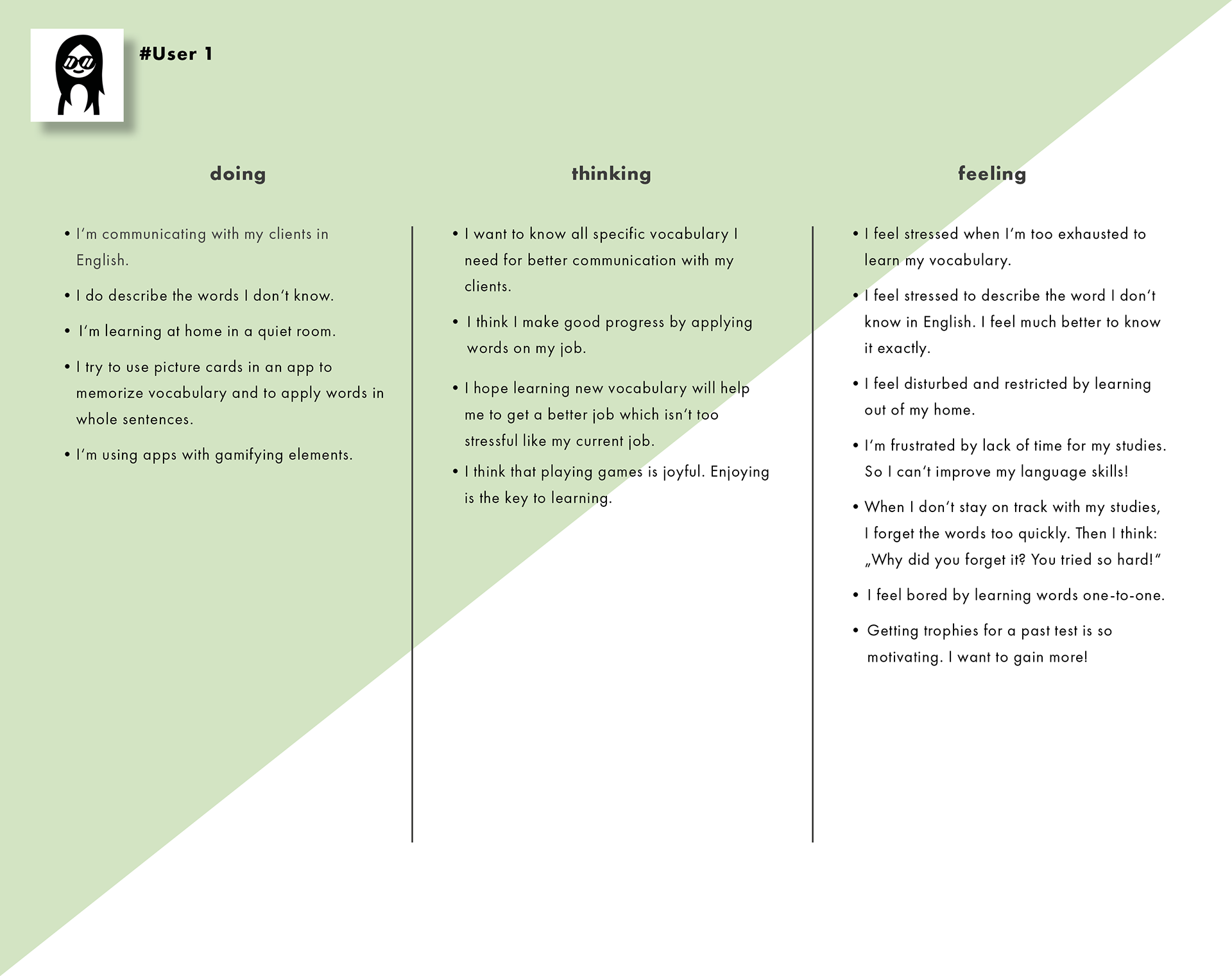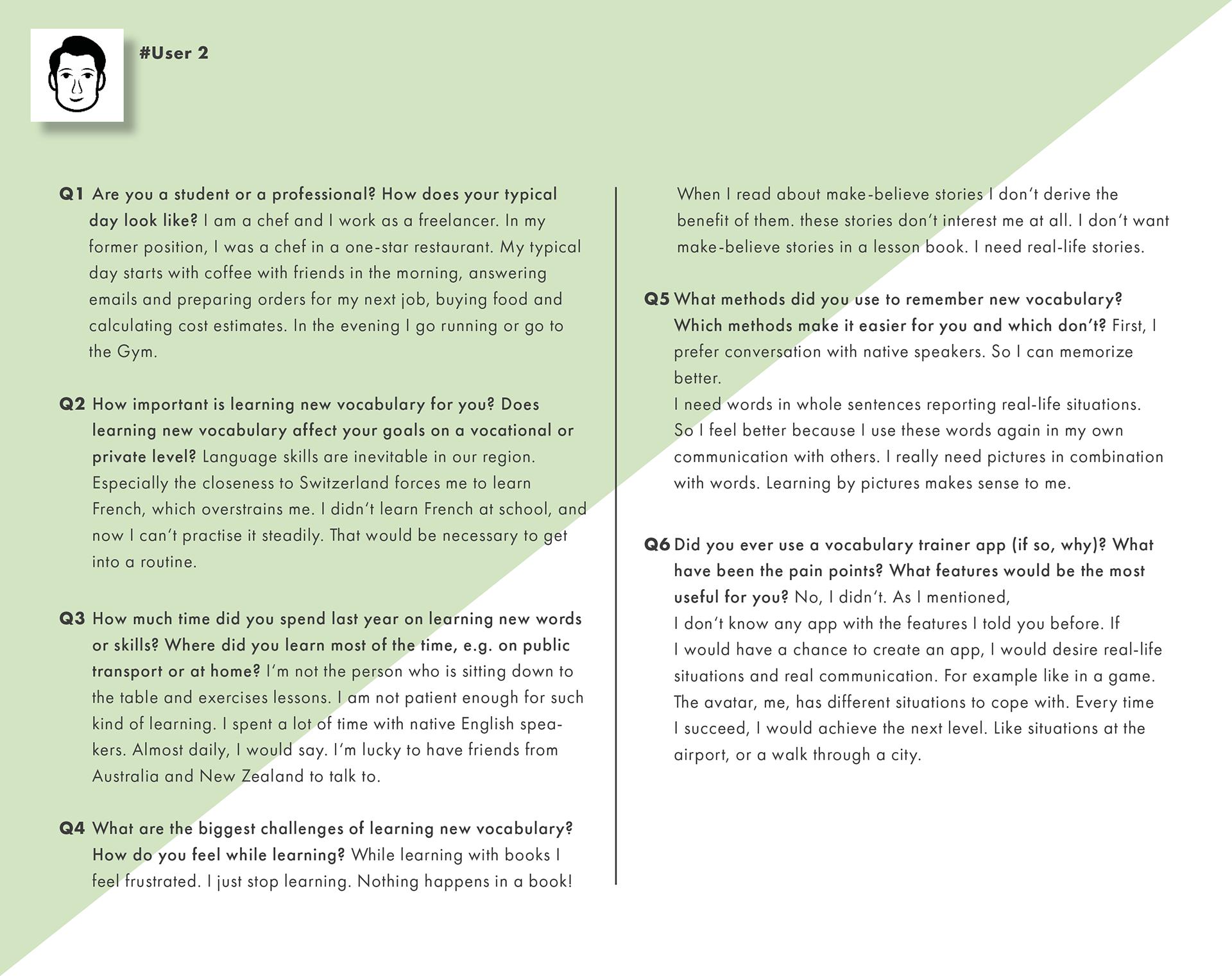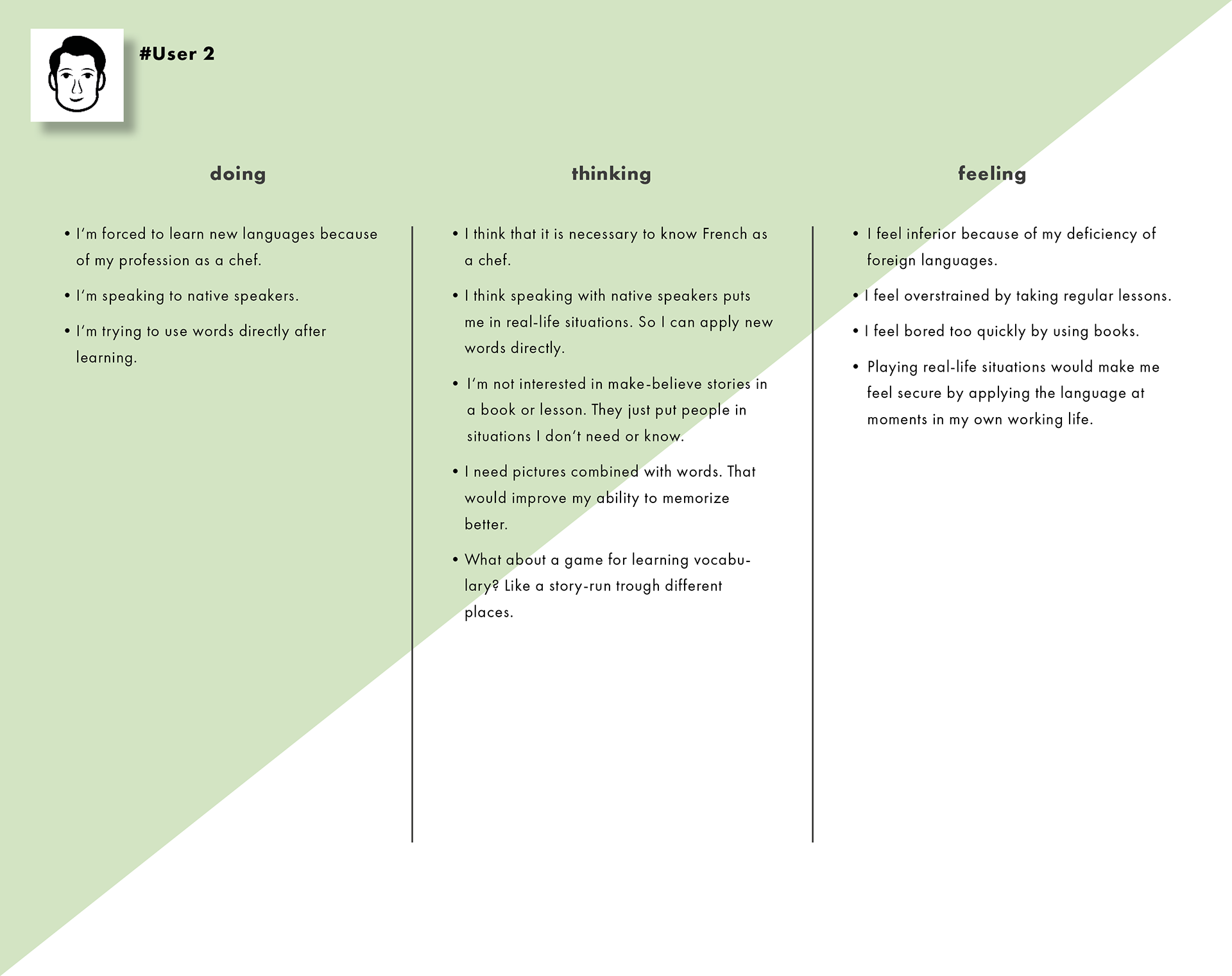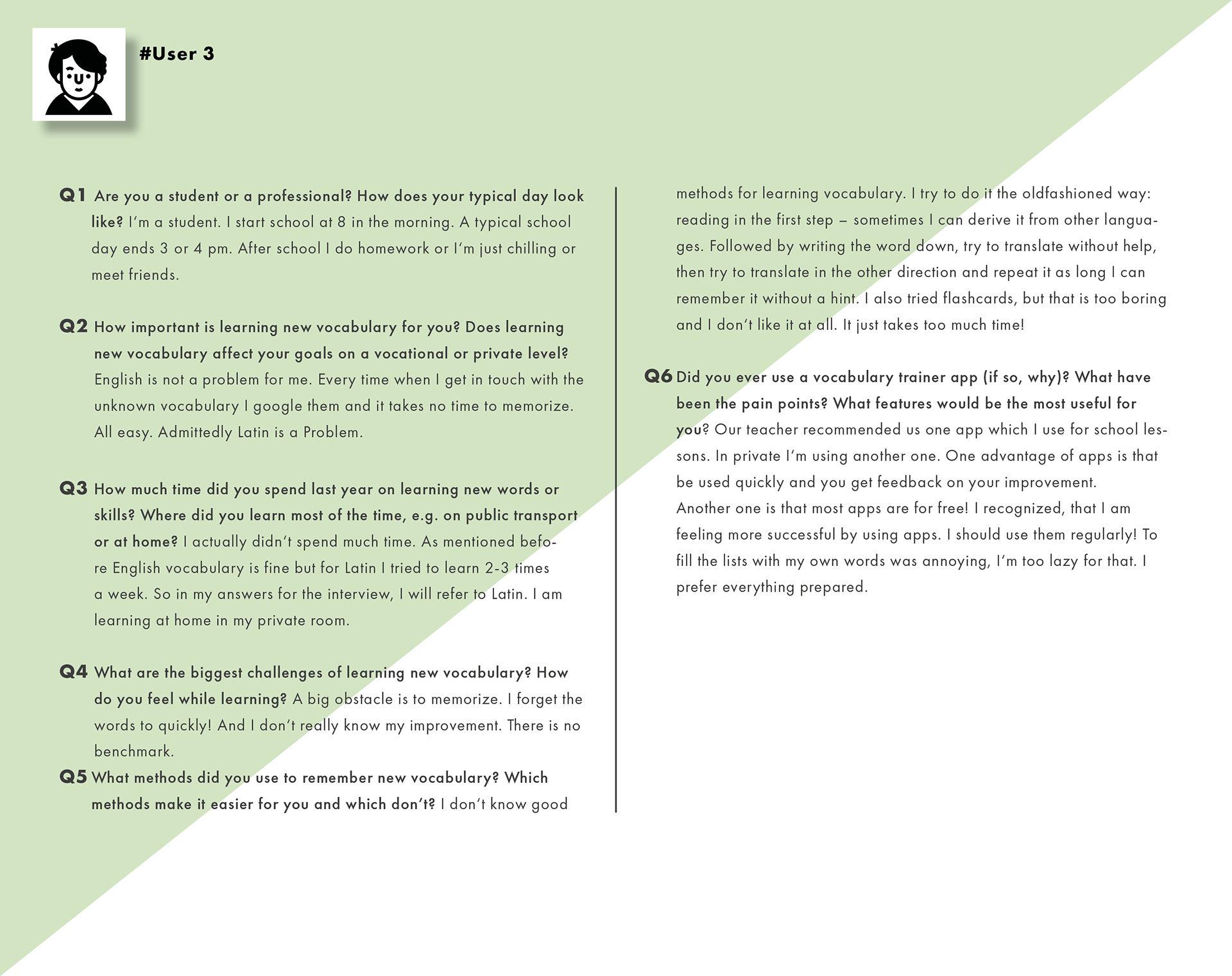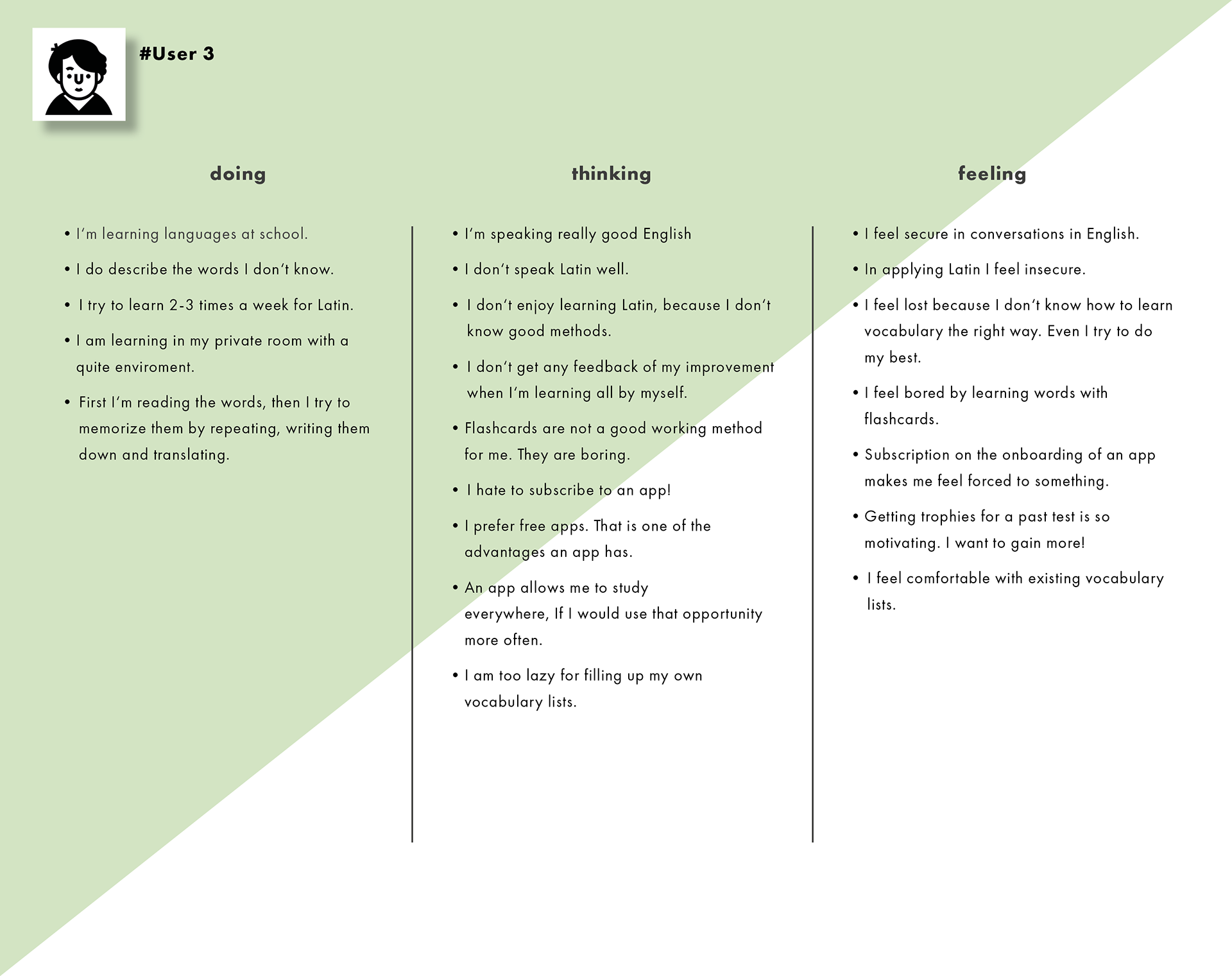 Using information from the interviews I conducted, I could define my
proto-persona
'Karl' to represent the potential customer for my vocabulary app I wanted to create. I sorted the information in
behaviours and action
,
needs and goals
and generated
user stories
and
job stories
for him. 
​​​​​​​
Methods:
User Personas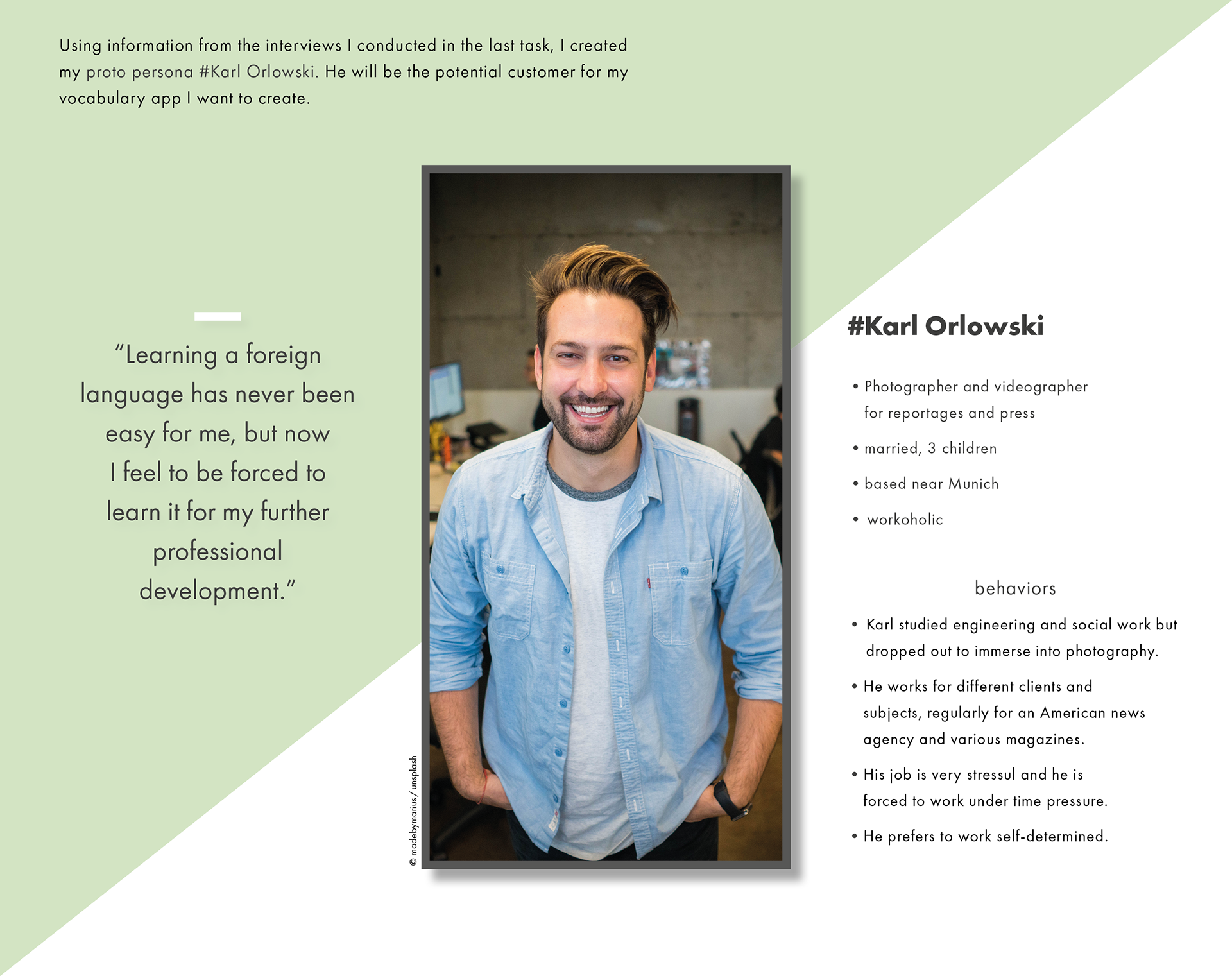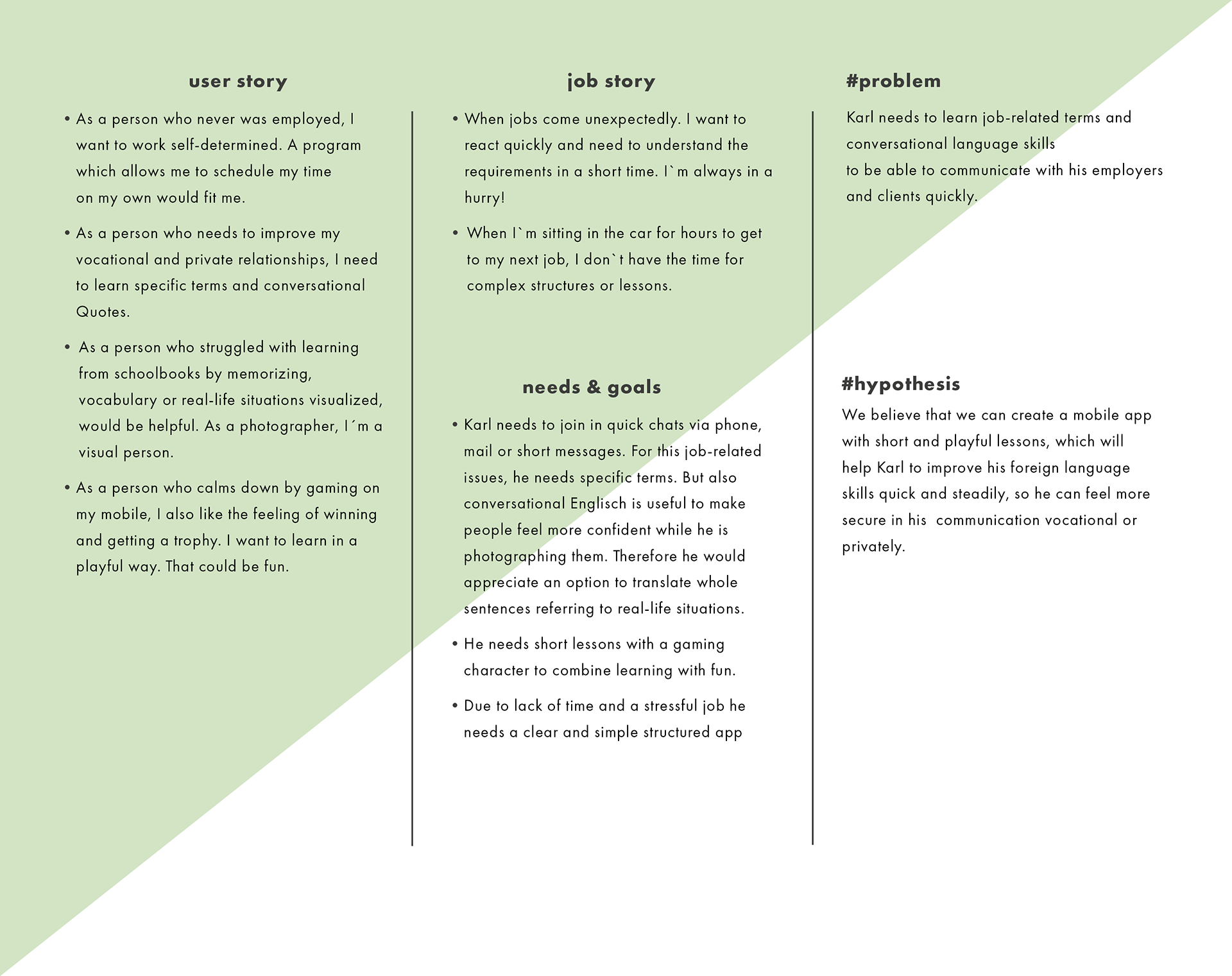 Finally, I came up with a
concrete problem
Karl has when he tries to learn new languages and a
hypothesis
 of how this might be solved with my app.
User flows
helped to get a good idea about how a user might move through an app, I created several, always with my created persona in mind.
Problem Statement: 
Karl needs to learn job-related terms and conversational language skills to be able to communicate with his employers and clients quickly.
Hypothesis: 
We believe that we can create a mobile app with
short
and
playful lessons
, which will help Karl to improve his foreign language skills 
 and steadily
, so he can feel more confident in his communication, vocational or privately.
Methods:
User Flows
 // 
Wireframes & Prototypes
I determined the features and functions the app must have to verify the hypothesis statement and worked out in which order the user would execute them. I created user flows for the most important functions. 
User flows
built the basis of the first draft from the upcoming
sitemap
.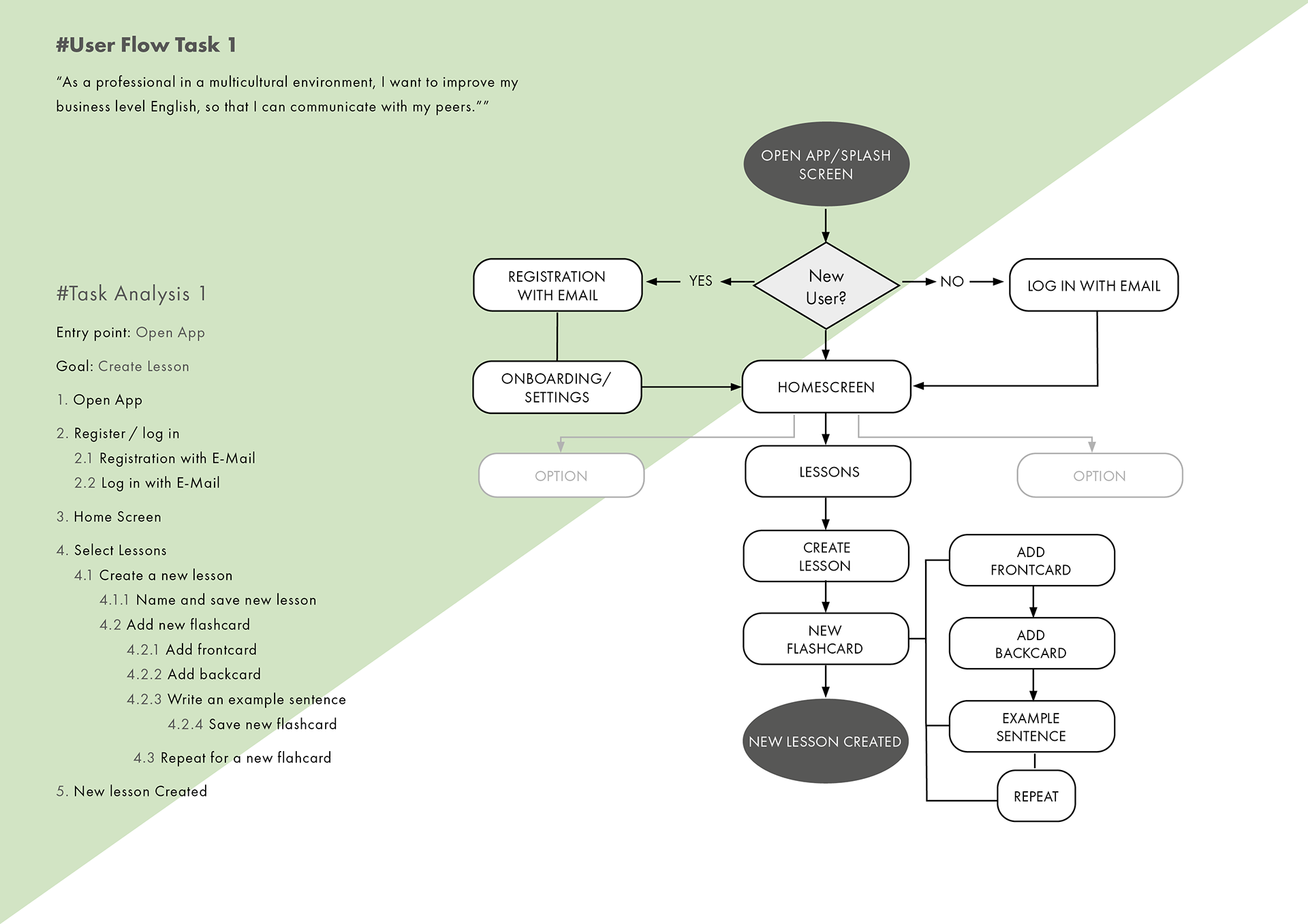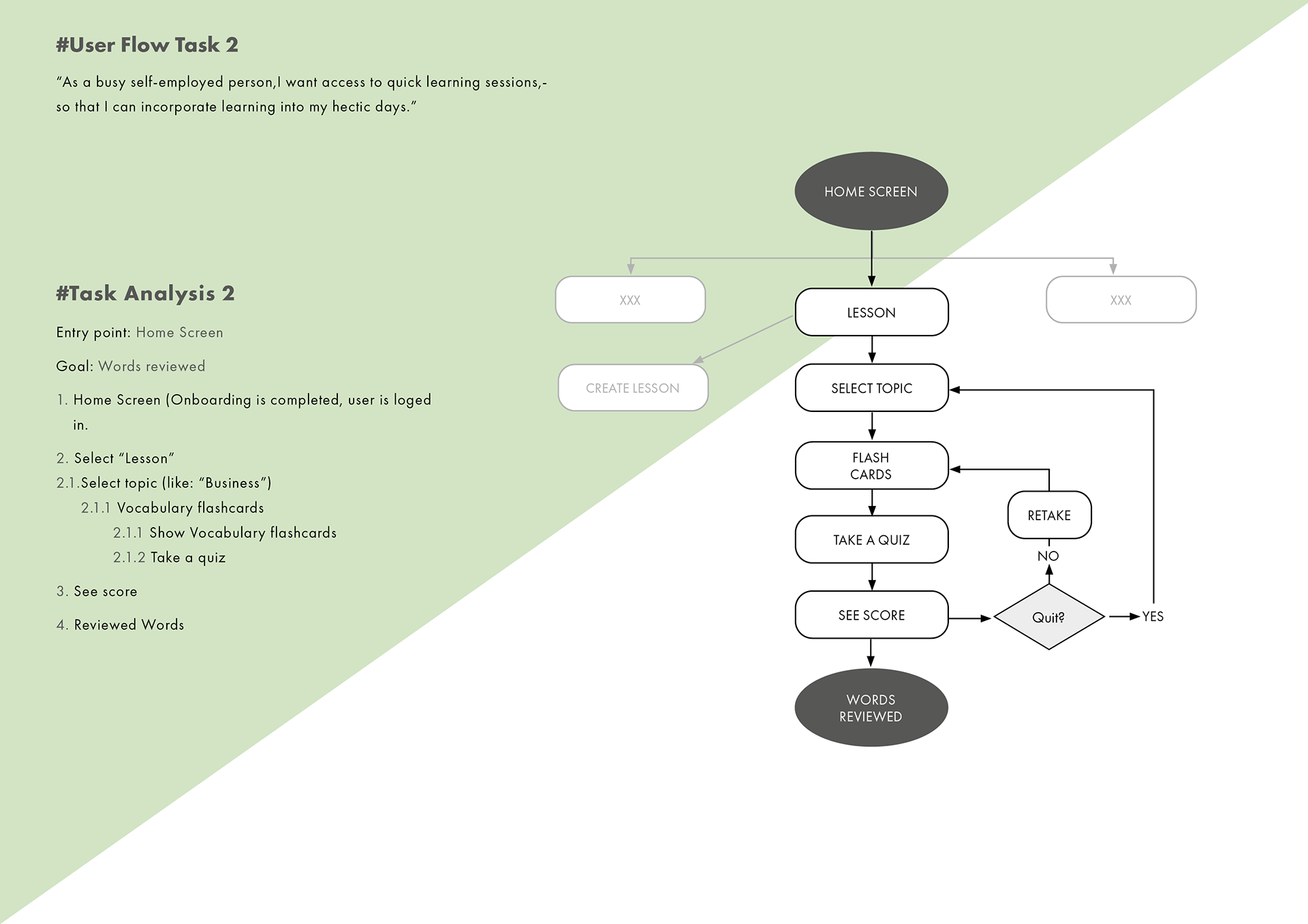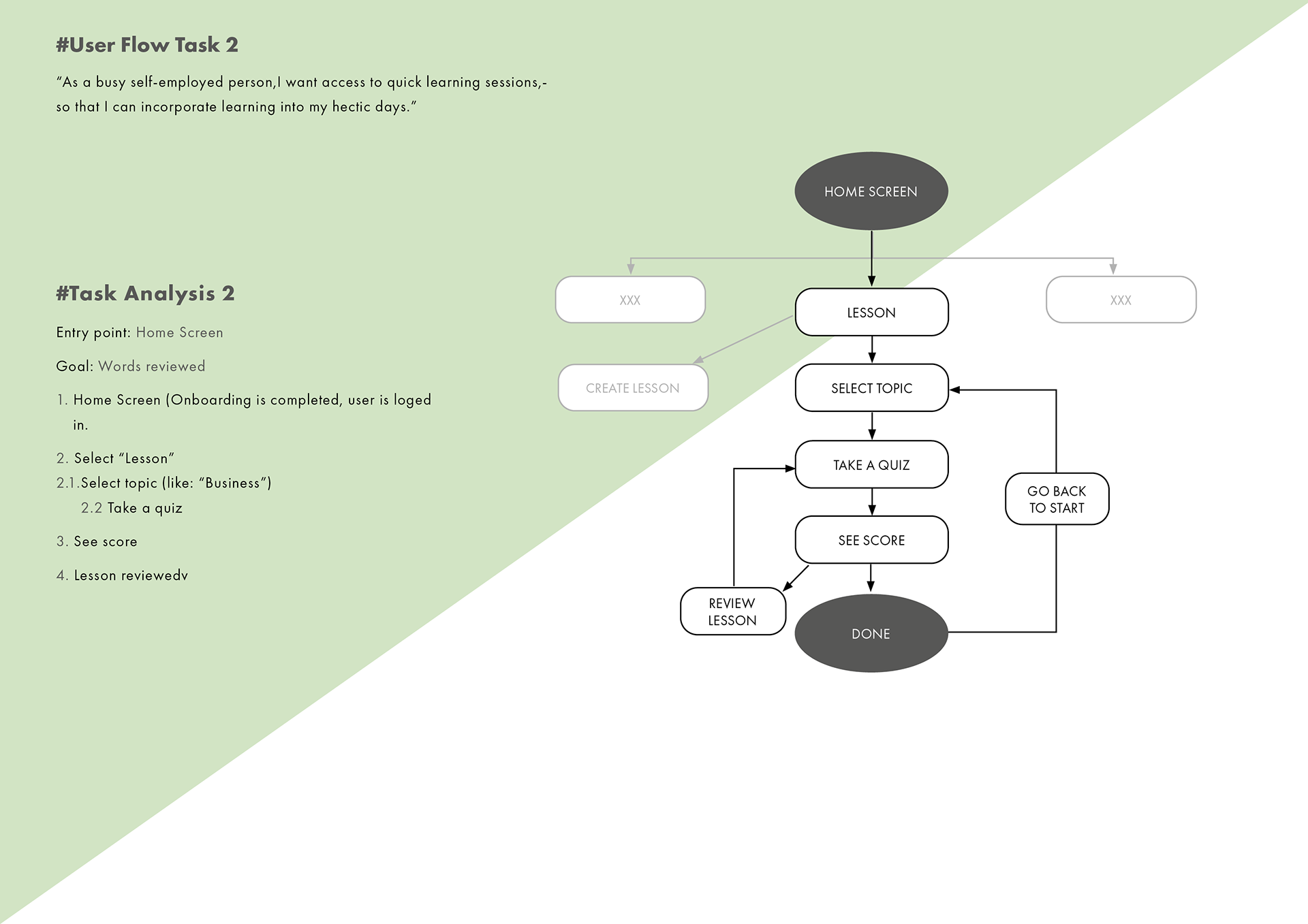 By using only
pen and paper
, I sketched out the most important steps as screens in
wireframes. Rapid Prototyping

 was an interesting method to try out ideas quickly.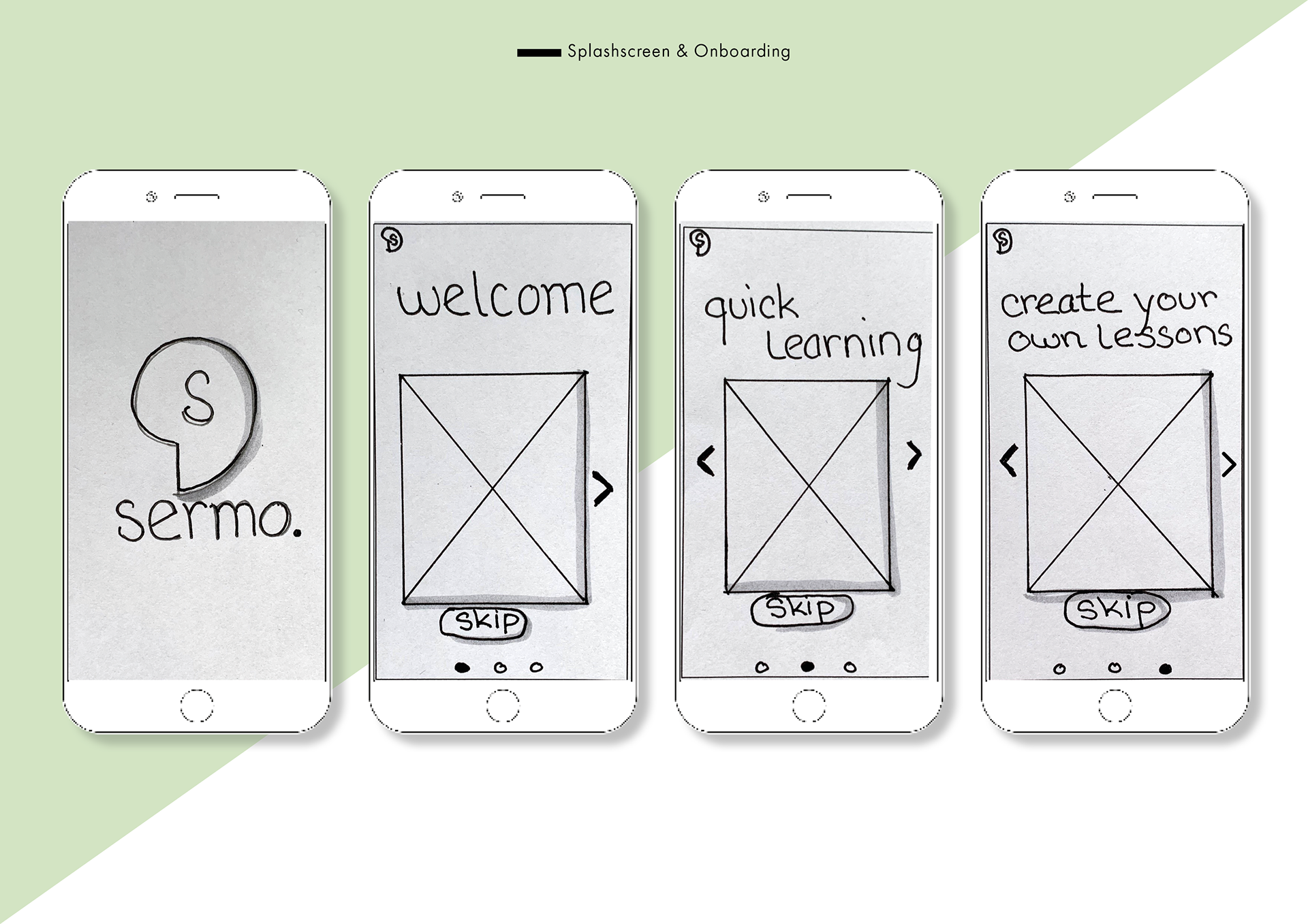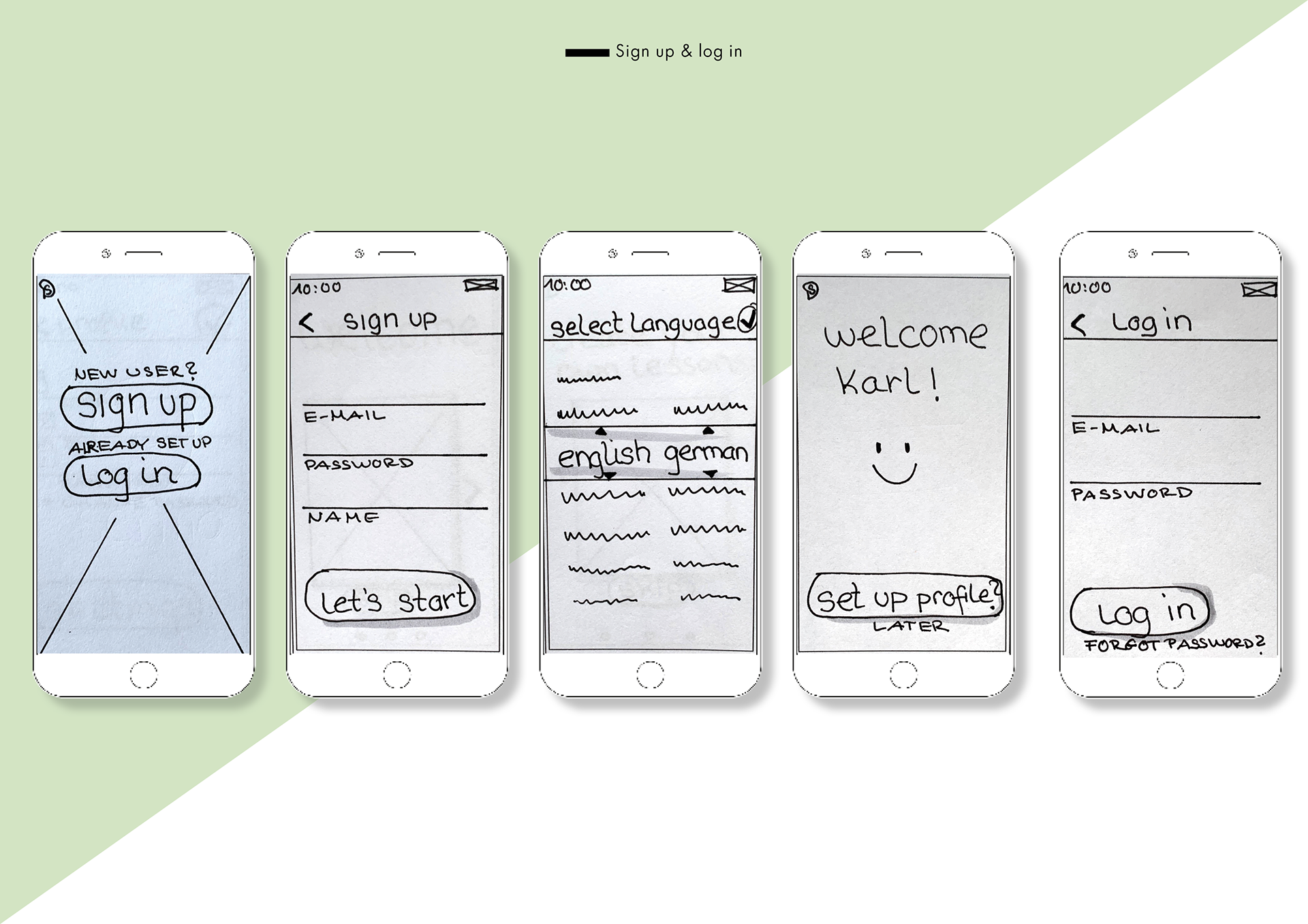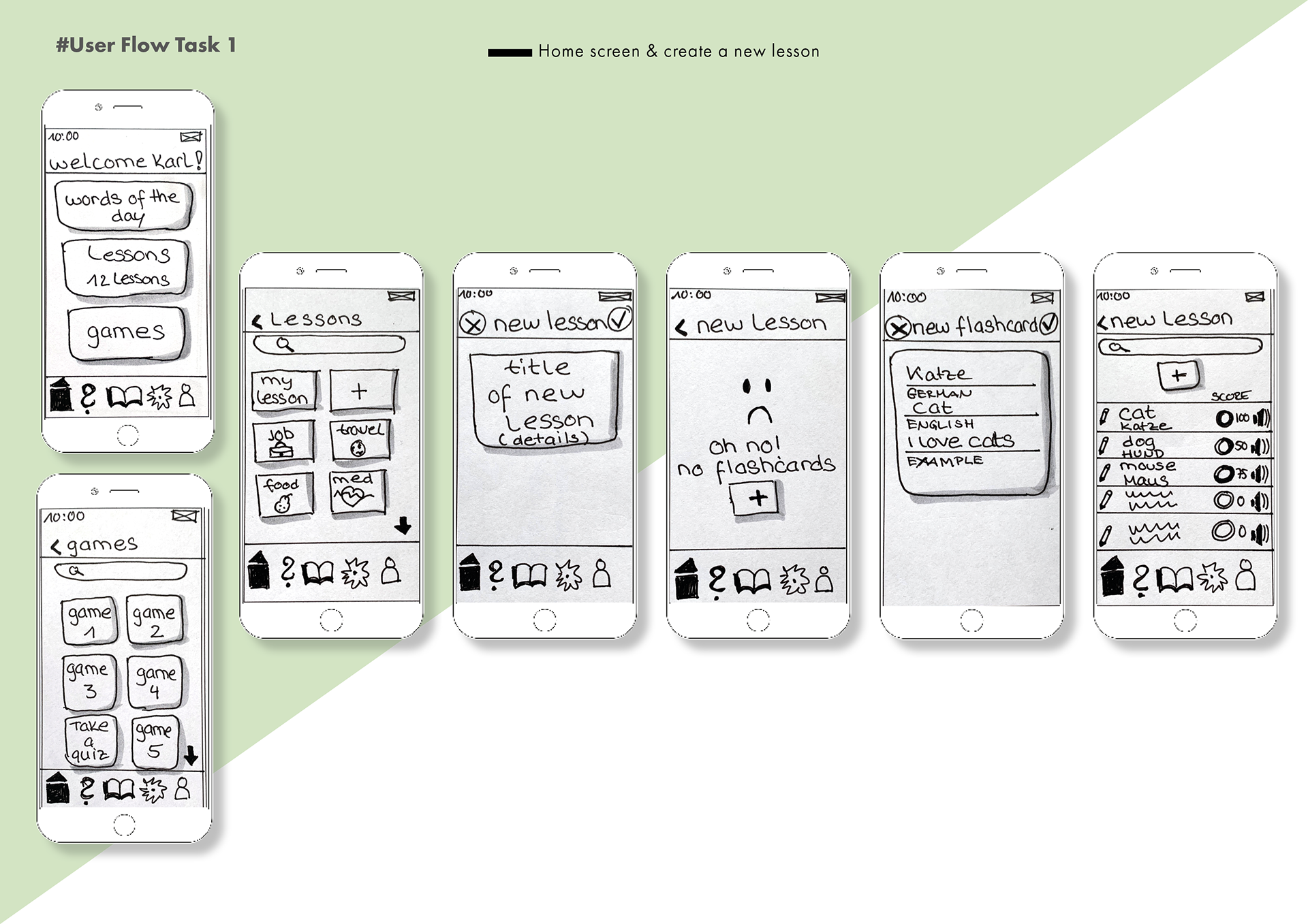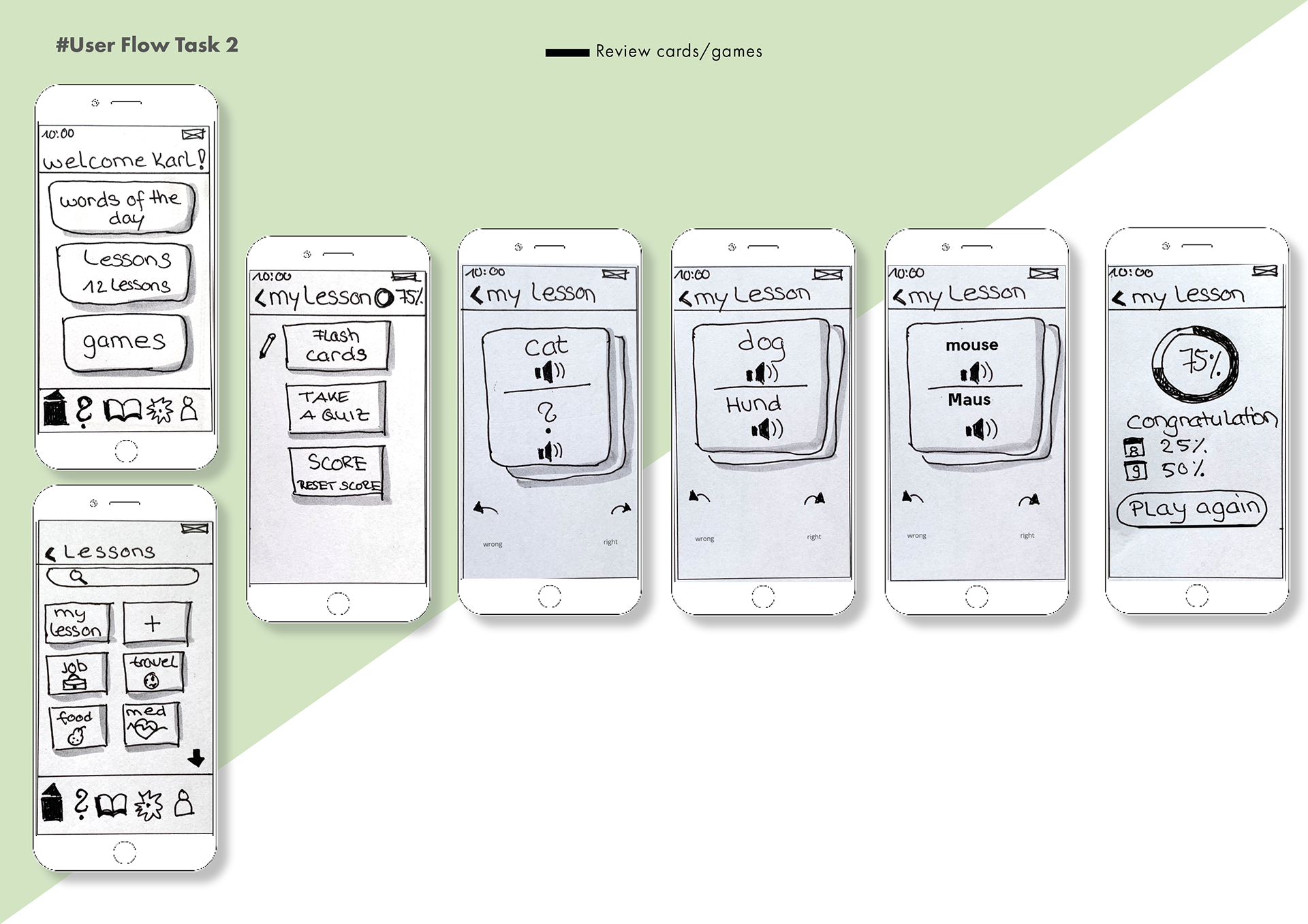 Methods:
Usability Testing 
To see if my Information architecture was right, I had to test it with real users. I formulated a
test script
and a 
testing plan
and conducted a usability test with three participants.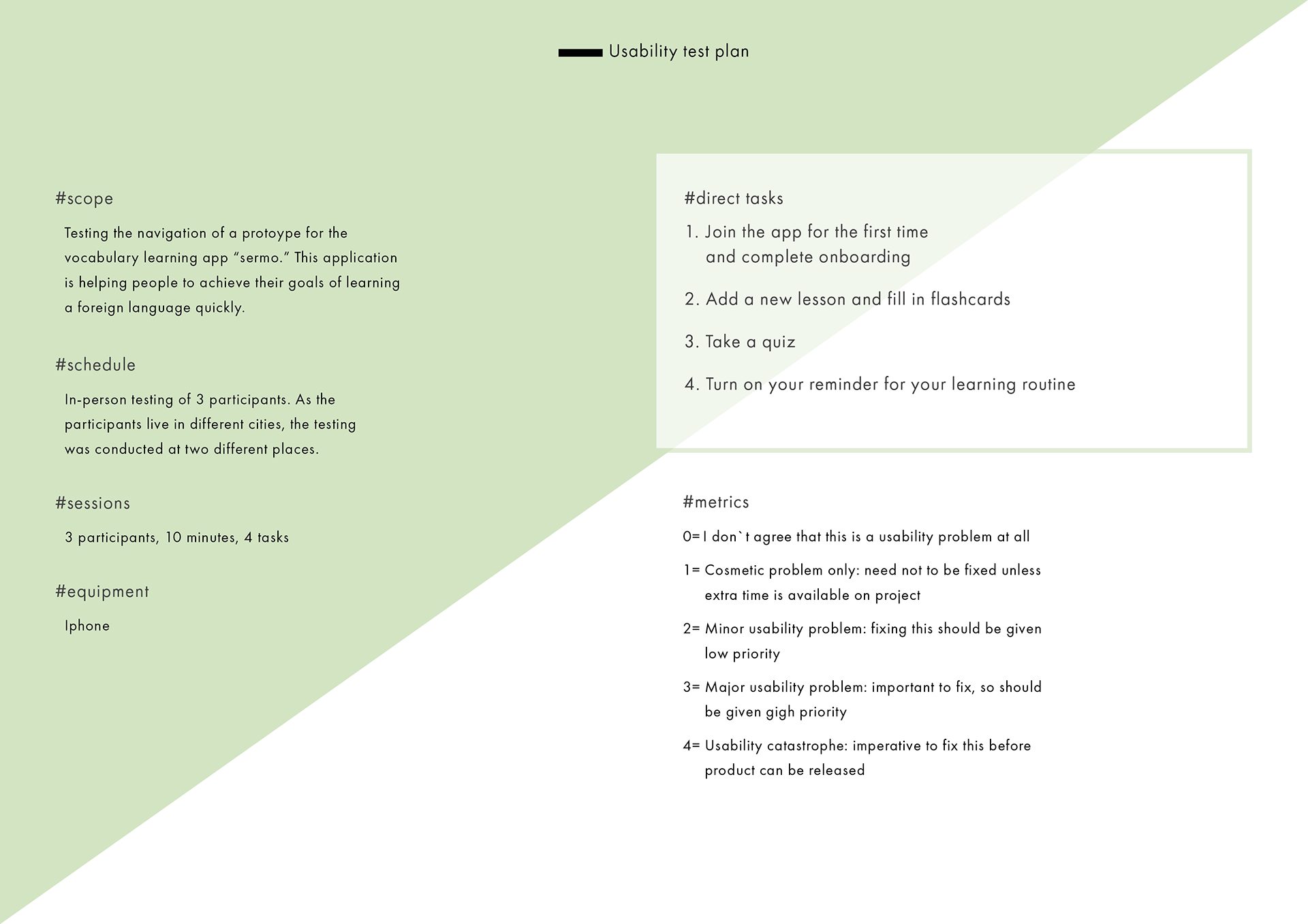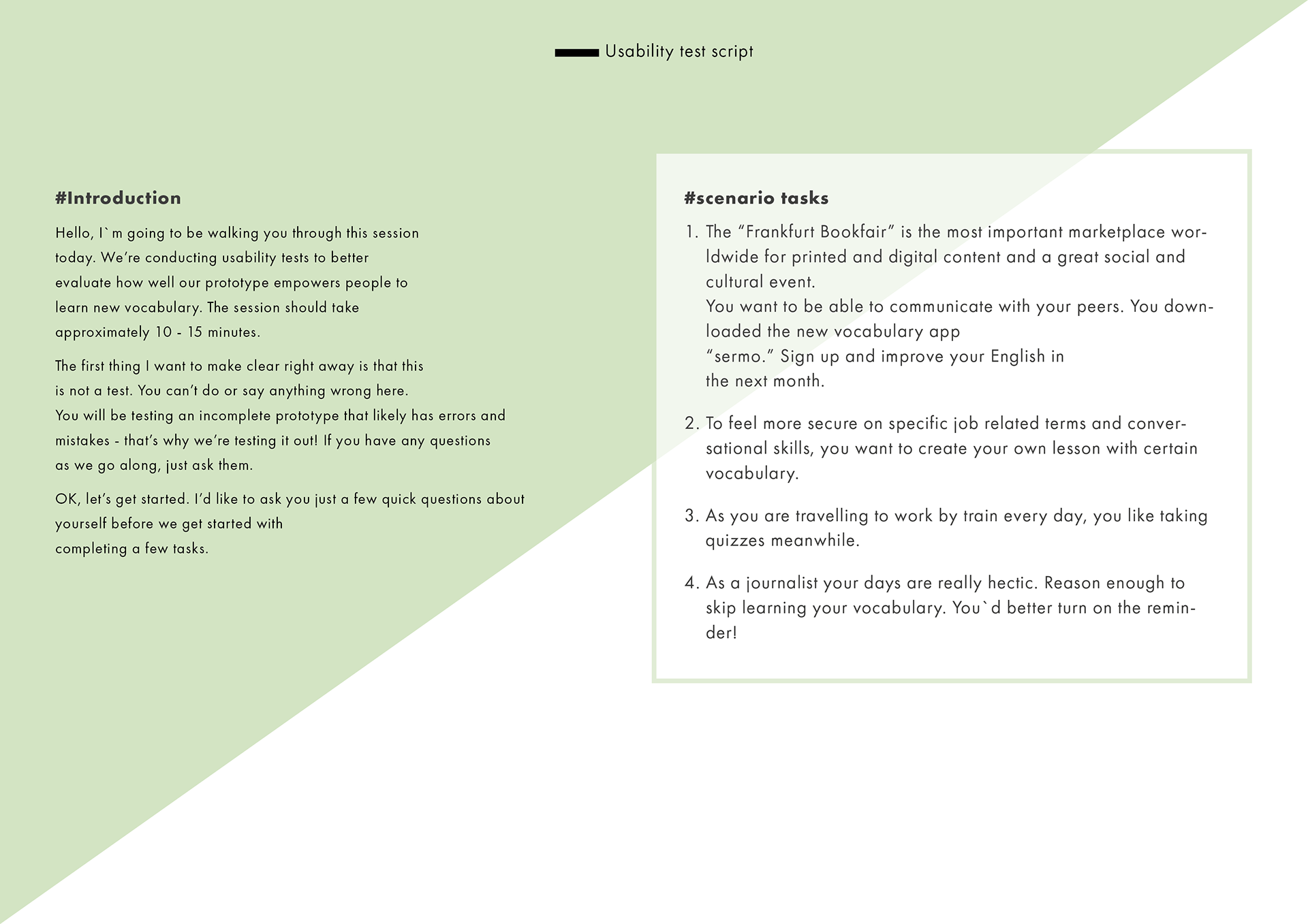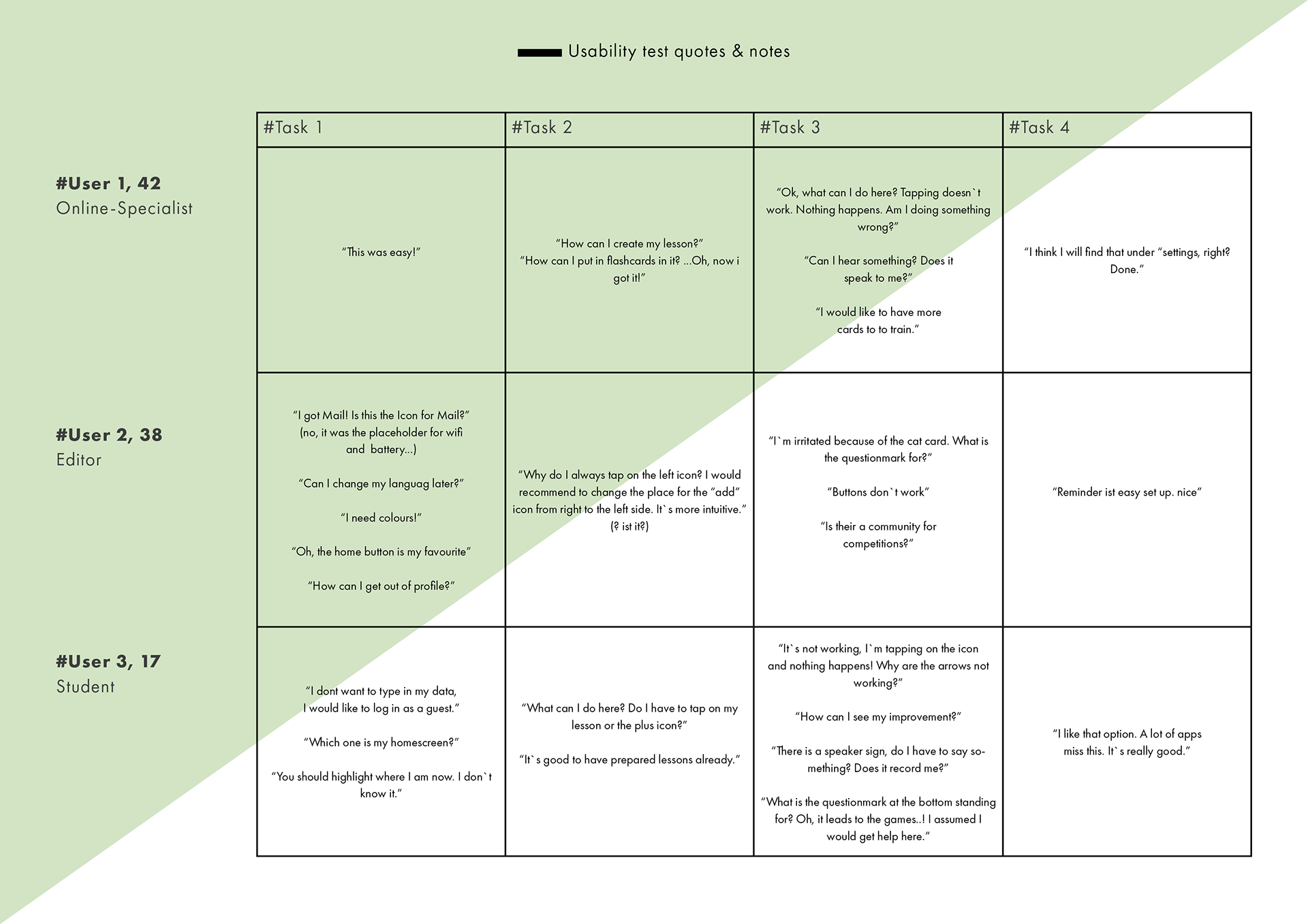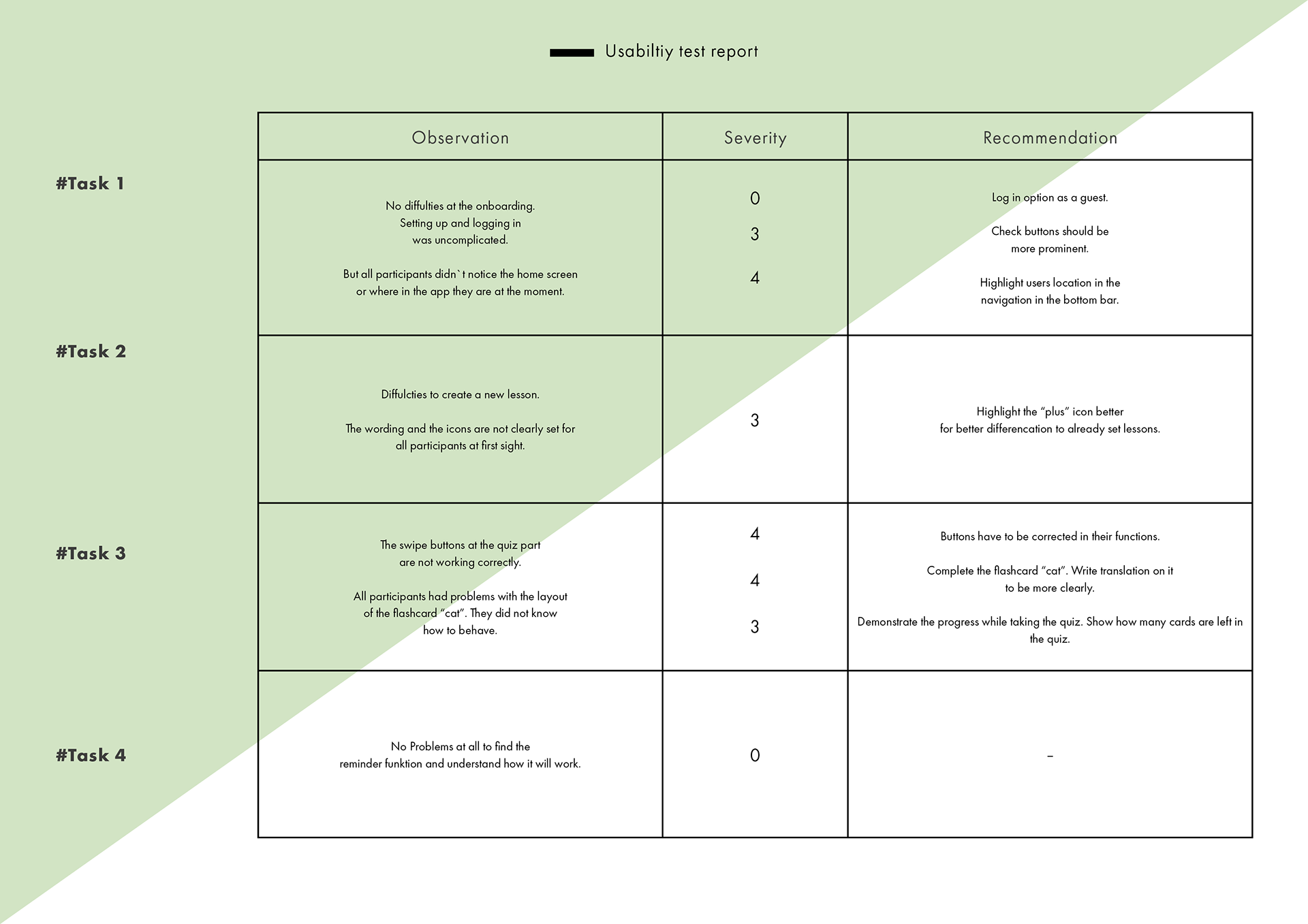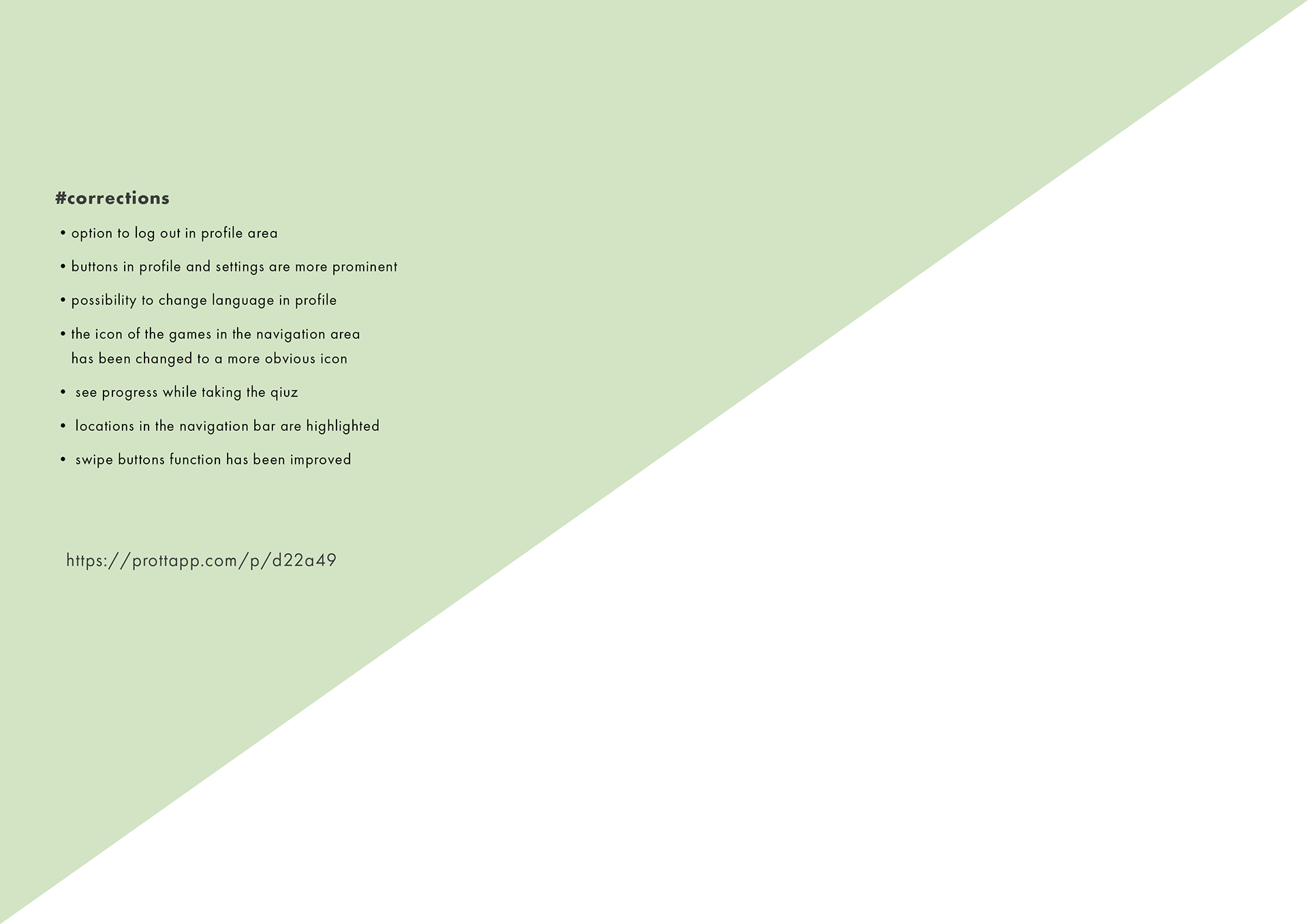 This project ended with 
improvement according to the test results
. Running the test in this early stages of the app helped me to make a course correction before moving on to further development.
This project was great for seeing how valuable user interviews and usability testings are, as they are good tools to get great insights. I enjoyed being engaged with my users and watching them while they tried to fulfil the given tasks. Also sketching out the first paper wireframes was fun!
I needed a few attempts to visualize the user flows, since I had never done this before and not being experienced with using vocabulary apps myself. But going back to the competitive analysis was a good way to be aware of what my MVP needs, and to bring to mind the aspects a vocabulary learning app needs to be easy to use. 
Feel free to play around with the low-fidelity prototype!